Two pilots die after firefighting plane crashes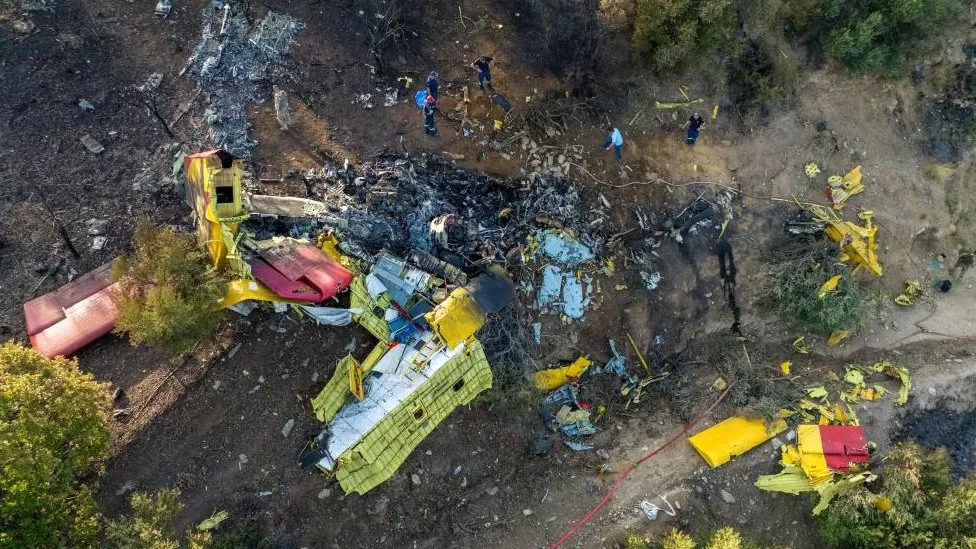 Two Greek air force pilots were killed in a plane crash while fighting wildfires on the island of Evia.
A water-bombing plane crashed near Platanistos while battling a forest fire, the defence ministry reported.
Pilot Christos Moulas, 34, and co-pilot Pericles Stefanidis, 27, have been identified as the pilot and co-pilot.
As a result of an intense European heatwave, wildfires have also broken out in Sicily, Algeria and Tunisia.
The Canadair aircraft was seen flying low to drop water on a fire before bursting into flames as it crashed into a hillside.
A fire was burning over the town of Karystos on the island when the plane crashed, according to state broadcaster ERT.
There were at least three other aircraft and about 100 firefighters fighting fires on Evia at the time.
Nikos Dendias, the Greek defence minister, said the pilots died "in the line of duty… trying to protect citizens' lives and property, as well as our country's environment".
According to the defence ministry, a three-day mourning period has been declared in the Greek armed forces.
According to Greek government minister Vassilis Kikilias, emergency teams were fighting flames non-stop on dozens of fronts on Tuesday.
Greece's largest island, Crete, has been put on high alert, with residents being warned of an "extreme fire risk".
Recent days have seen more evacuation flights from Rhodes, and more than 20,000 people have been evacuated from their homes and resorts.
There is no possible way the current conditions could have occurred without human-caused climate change, according to an international panel of scientists.
After weeks of record-breaking temperatures, the Italian island of Sicily has been battling fires overnight.
In the aftermath of a fire that forced the temporary closure of Palermo airport on Tuesday, Palermo was "encircled" by flames.
Northern Italy has experienced a brutal winter, with violent storms uprooting trees and lifting roofs off buildings.
There were injuries caused by tennis ball-sized hailstones, cars were damaged, and crops were destroyed.