Trump rivals spar in unruly debate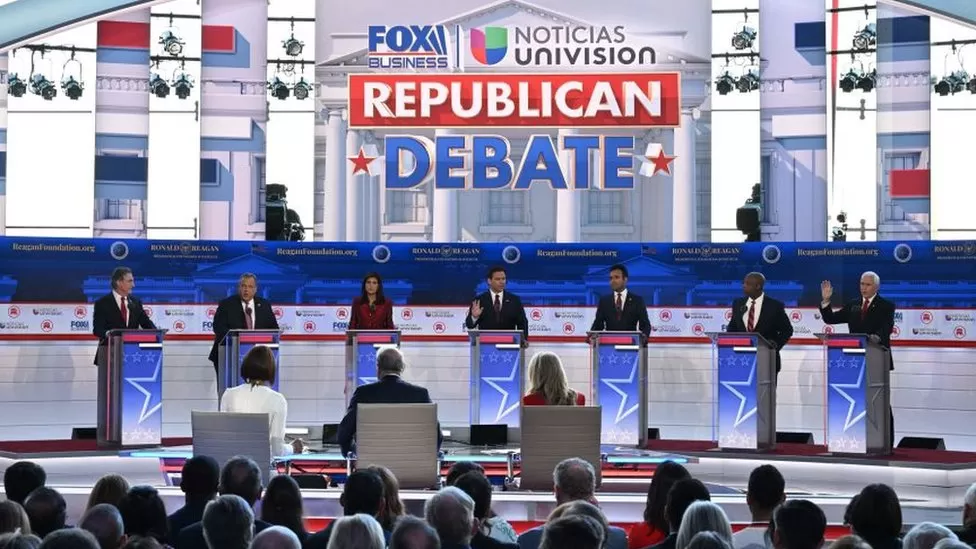 As a result, his nearest rival Ron DeSantis branded Donald Trump "missing in action" for skipping the event to woo voters more than 2,000 miles away in Michigan.
During Wednesday's increasingly heated two-hour forum, contenders also attacked each other.
By the end of the night, however, none had seized momentum with a standout moment.
In 2016, the Republican nominee will face President Joe Biden, the likely Democratic candidate.
As part of Fox Business Network's primetime showdown, Florida Governor Ron DeSantis, biotech entrepreneur Vivek Ramaswamy, former UN ambassador Nikki Haley, former New Jersey Governor Chris Christie, former Vice President Mike Pence, South Carolina Senator Tim Scott, and North Dakota Governor Doug Burgum took the stage. There were polite exchanges during the first half hour of the debate at the Ronald Reagan Presidential Library in Simi Valley, California – but the mood grew ill-mannered as the night went on, with several instances of the moderators losing control.
According to most opinion polls, Mr Trump leads the Republican field by about 40 points.
In his most aggressive attempt so far to lure away Mr Trump's loyal supporters, Mr DeSantis – who is currently polling in second place – directly criticized the former president.
As governor, he enacted conservative priorities, including a ban on abortion, and twice criticized his fellow Floridian for being "missing in action".
As a former occupant of the White House, Mr Trump cannot serve two terms as president, thus Americans need a president who can serve two terms.
Asked about which candidates should leave the race, Mr DeSantis declined, calling it "disrespectful".