The Crocodile wins second term as Zimbabwe president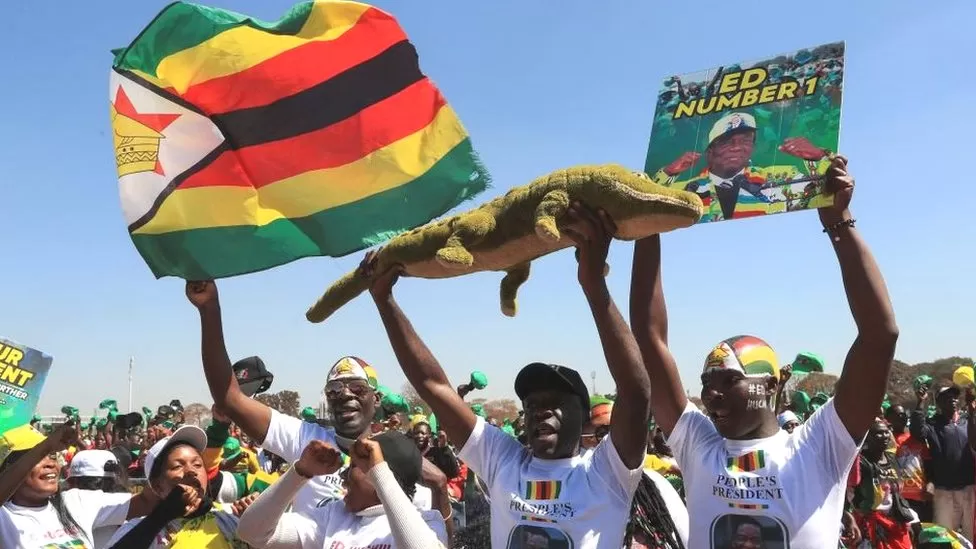 In the opposition's view, there was widespread vote rigging, and observers criticized the vote as undemocratic.
Mnangagwa is Zimbabwe's third president. He was installed in power following a coup against veteran ruler Robert Mugabe in 2017.
There is still high inflation, poverty, and a climate of fear among Zimbabweans.
In his first term as president, Mr Mnangagwa – known as "The Crocodile" for his ruthlessness – promised his country's people a fresh start.
The inflation rate in Zimbabwe in July was 101.3% higher than the previous year, making it one of the highest in the world. There is also a high unemployment rate in Zimbabwe, with only 25% of the population holding a formal job.
As for Mr Mnangagwa's promise to guarantee human rights, little has changed since Mr Mugabe's departure. In the run-up to the vote, which he had been widely expected to win, critics say he silenced dissent and clamped down on the opposition.
Nelson Chamisa, the main challenger of Mr Mnangagwa, secured 44% of the vote, according to the Zimbabwe Electoral Commission (ZEC).
The ZEC reports that Mr Mnangagwa received more than 2.3 million votes, while Mr Chamisa received 1.9 million. Almost 16 million people voted in the country, according to the electoral body.
Chamisa, however, claimed that the opposition had the "real results" and that there had been many irregularities.
He told journalists in Harare that "we have won this election. We are the leaders. We are even surprised that Mnangagwa has been declared the leader.".
The constitutional court upheld the result despite the opposition's claims. On X – formerly known as Twitter – a CCC spokesperson said the party rejected "any result that hastily assembled without proper verification".
There were a number of concerns expressed by EU, Commonwealth and Southern African Development Community (SADC) observers, including the ban on opposition rallies, issues with the electoral register, biased state media coverage, and voter intimidation during the vote.
"The elections were fraught with irregularities and aggrieved the people of Zimbabwe," political analyst Rejoice Ngwenya told AFP.