Stolen' totem pole prepared for return to Canada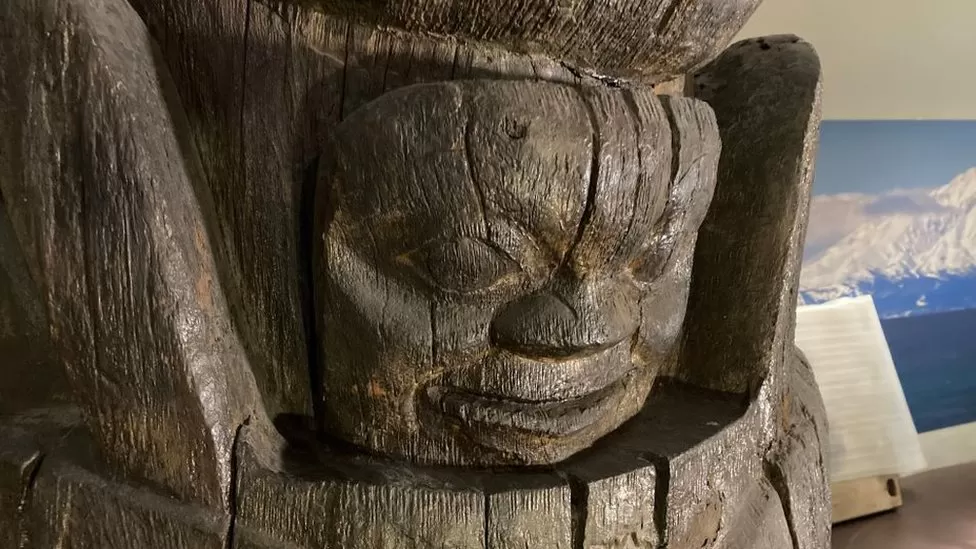 Currently, one of the museum's biggest displays is being prepared for a 4,200-mile journey back to its original home on the ground floor.
On the west coast of Canada, a 36ft (11m), one-tonne totem pole is returning to the Nisga'a Nation, an indigenous group.
Canadian anthropologist Marius Barbeau sold the totem pole to the museum almost a century ago.
While locals were away from their villages for the annual hunting season, Nisga'a researchers say it was stolen without consent. Despite believing it acted in good faith, the museum now understands that the individual who sold it to Barbeau did so "without the cultural, spiritual, or political authority to do so on behalf of the Nisga'a Nation".
The pole was returned last year.
In 1855, the totem pole was carved from red cedar and is almost entirely composed of a single piece of wood, with a separate cap at the top
In 1929, it arrived in Scotland from Ank'idaa village on the banks of the Nass River. It tells the story of a Nisga'a warrior who was next in line to become chief before his death through carvings, human figures, and family crests.
The move to return the pole has been spearheaded by Amy Parent, the Canada research chair in indigenous education and governance at Simon Fraser University in Vancouver.
The Nisga'a cultural name of Dr Parent is Noxs Ts'aawit. On each pole, there are crests carved – often animals or humans – and on our particular pole, we have two ravens, as well as some other animals and the chief sitting at the top.
Ravens represent the name Ts'aawit. He was an ancestral relative who died defending our nation. He was a warrior and part of my name is attached to his name."