Spain and Barcelona midfielder Gavi suffered a serious knee injury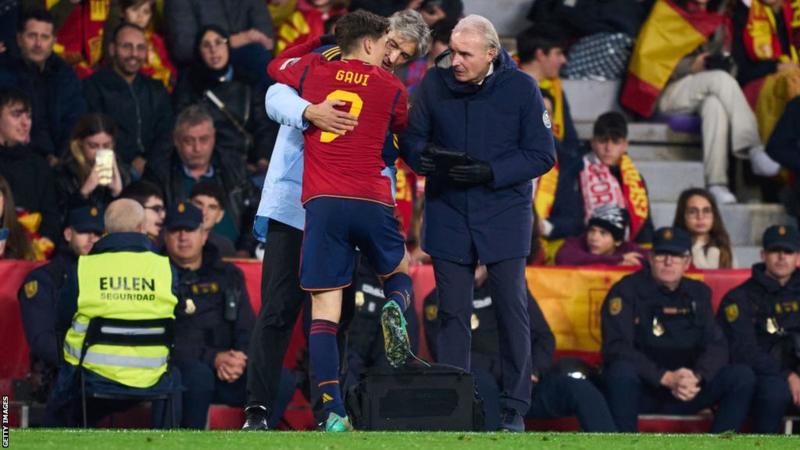 Spain and Barcelona midfielder Gavi suffered a serious knee injury in the Euro 2024 qualifying win over Georgia.
It was an awkward landing after the 19-year-old jumped to control the ball, and he left the pitch in tears in Valladolid.
During a press conference, Spain manager Luis de la Fuente said the team must wait for tests to determine whether the injury is to the anterior cruciate ligament.
In his words, "This is the ugly part of football. It's the bitterest victory I've ever experienced."
Despite our efforts, it seems as if we have lost the match – it is a very difficult time for Gavi, Barcelona, the national team, and me as well.
We should wait until the tests confirm the extent of the injury before making any decisions (for Gavi)."
Spain, who had already sealed their place at next summer's European Championships, beat Georgia 3-1 to finish top of Group A above Scotland.
After four minutes, Spain had a lead thanks to Robin le Normand, but Khvicha Kvaratskhelia responded to equalize.
In the second half, Spain's Ferran Torres restored their lead before Georgia's Luka Lochoshvili scored an own goal.
Despite our best efforts, we might not be able to celebrate. The injury to Gavi is a devastating blow. I am gutted," he said.
Torres held up Gavi's shirt to celebrate. He said: "This is an important win, but we leave with a bitter taste in our mouths.".
"We don't know the extent of Gavi's injury, but given his warrior reputation, we suspect it could be serious."