Seven killed in Russian missile strike on eastern town of Pokrovsk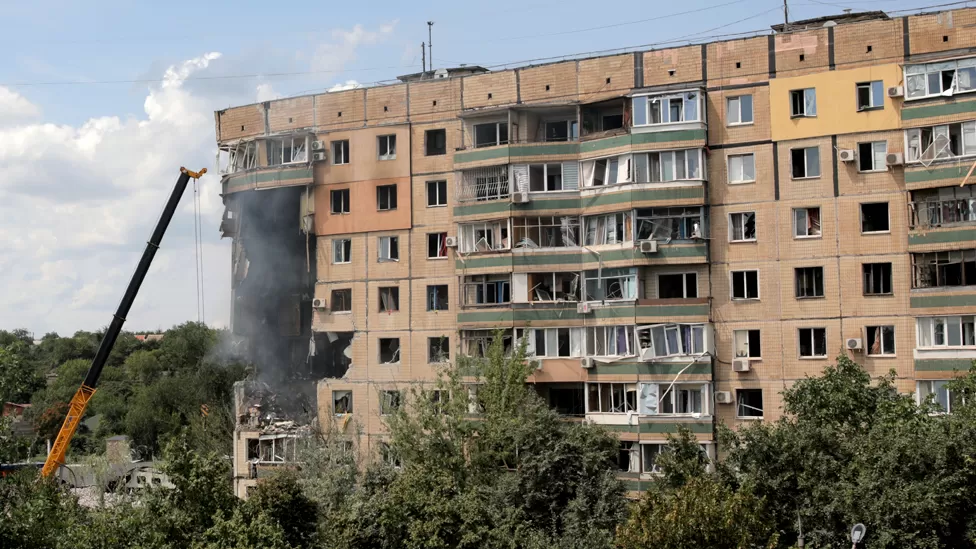 A Russian missile attack on residential buildings in Pokrovsk, eastern Ukraine, has killed at least seven people.
During the search for victims of the first missile, a second missile struck the town.
A number of people were injured, including rescue workers and police officers. There were more than 30 civilians injured in the attack, including two children.
There is still a rescue effort underway.
The city of Pokrovsk is located approximately 70 kilometers (43 miles) north-west of Donetsk city, which is occupied by Russian forces. Around 60,000 people lived there before the war.
The head of the Donetsk region, Pavlo Krylenko, said five civilians were killed in the first strike, and an emergency services official was killed in the second strike. The death of a military worker was also reported.
The buildings that were "destroyed and damaged" included "high-rise buildings, private houses, administrative buildings, catering establishments, and hotels".
In a post on Telegram, he added, "Russia is a terrorist state. And she must be punished for her crimes!".
The second missile struck 40 minutes after the first, killing and wounding rescuers searching in ruins of what Mr Zelensky described as an "ordinary residential building".
An image of a five-storey building with its top floor destroyed was published by him.
The video showed civilians clearing away rubble and rescuers helping people into ambulances amid chaos and confusion.
After the strikes, Russia claimed that its forces had also hit a Ukrainian military command post in Pokrovsk. In response to Tuesday's reported strike, Ukraine did not comment.
Reuters reported that Kateryna, a resident injured in the first attack, was at home when the missile struck.
As the flame filled my eyes, I fell to the ground. My eyes hurt a lot, but I'm okay, only the shrapnel in my neck hurts."
In the Kharkiv Region, two civilians were also killed when Russian guided bombs hit "private houses" on Monday night, according to Ukraine's Presidential Office head, Andriy Yermak.
He said five people were injured in those strikes.
Since launching a counter-offensive two months ago, Ukraine has made modest gains in regaining territory occupied by Russia.
Zelensky told the Argentine newspaper La Nacion on Sunday that Ukraine must find another way to end the blockade of its waters.
He added that "if Russia continues to dominate its territory in the Black Sea and blockade, fire missiles, Ukraine will do the same, which is a fair protection of our chances."
The Russian government withdrawn from a deal allowing Ukrainian grain exports and warned ships in the Black Sea they could face military action. Ukraine responded in kind.