Sarah Lancashire says terrible menopause affects her memory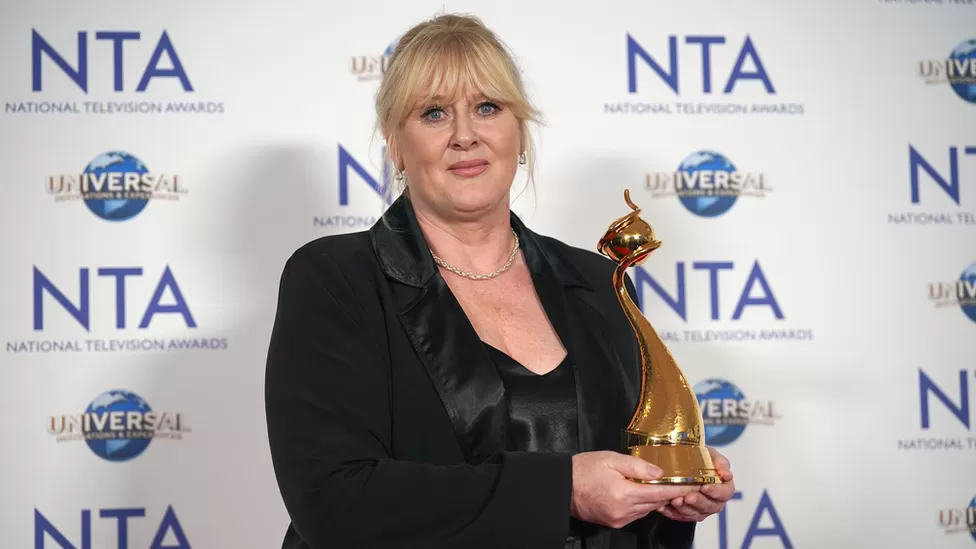 At the ceremony, she needed two fans "pretty much on my face the whole time" to stay cool.
In Happy Valley, Lancashire plays Sergeant Catherine Cawood.
Sir Ian McKellen presented the actress with this year's special recognition award for her best drama performance at the NTAs.
During a recent shopping trip, she forgot what she had bought due to brain fog.
The other day, she found herself standing in the aisle at Sainsbury's and couldn't remember why she was there.
It just comes over you all of a sudden. I don't remember things that happened 30 years ago either."
During the NTAs, the actress said she tried to conceal her cooling methods.
The purpose of bringing one of my closest friends was for him to keep an eye out for the cameras and tell me if they were going to pan across to us so I could hide the fans.
Her menopause symptoms were being treated with hormone replacement therapy (HRT).
"I'm currently using gel, but it's not working for me, so I might try patches next," she said.
It has also been reported that the actress has struggled with depression in the past.
Lancashire told the Daily Mail in 2016 that her 20s had been a "write-off".
The depression did inhibit me in the beginning because I was too debilitated and terrified to explain why I couldn't get a train from Manchester to London for auditions.