Russia-Ukraine war: Seven killed in Russian missile strike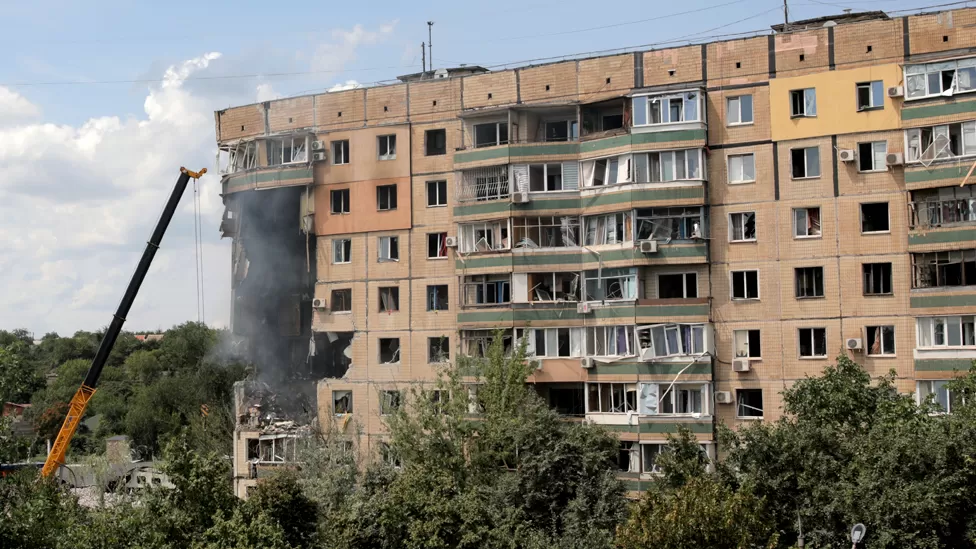 A Russian missile attack on residential buildings in the eastern Ukrainian town of Pokrovsk has killed at least seven people.
During rescue efforts for the first missile victims, a second missile struck Pokrovsk.
The building hit by the explosion was a "regular residential building," Ukrainian President Volodymyr Zelensky said.
There is a continuing search for survivors.
In the north-west of Donetsk city, which is occupied by Russian forces, Pokrovsk lies about 70km (43 miles). There were around 60,000 people living there before the war.
In the first strike, five civilians were killed, while in the second strike, an official from the emergency services was killed, according to Pavlo Krylenko, the head of the Donetsk region. In addition, a person who works in the military lost their life.
He said 29 police officers, five rescuers, and a child were among the injured.
According to him, a high-rise building, a private house, an administrative building, catering establishments, as well as a hotel were "destroyed and damaged".
He added on Telegram that "Russia is a terrorist state and must be punished for its crimes.".
As rescuers searched for survivors in ruins of what Mr Zelensky described as an "ordinary residential building", a second missile struck 40 minutes after the first, killing and wounding them.
In a video, he shows a five-story building whose top floor has been destroyed.
It showed civilians clearing rubble and rescuers loading people into ambulances amidst general chaos and confusion.
According to Reuters news agency, Kateryna, who was injured in the first attack, was at home at the time of the attack.
"The flame filled up my eyes. I fell down on the ground. My eyes (hurt) a lot, but I'm ok, just shrapnel in my neck.".
On Monday evening, Russian guided bombs also hit "private houses" in the Kharkiv Region, according to Ukraine's Presidential Office's Andriy Yermak.
There were five injuries in those strikes, according to him.
Earlier in the day, a Russian "guided bomb" struck a blood transfusion centre in northern Ukraine, killing two people.
Since launching a counter-offensive two months ago, Ukraine has made modest gains in regaining territory occupied by Russia.