Rhodes fires: Thousands forced to flee 'disaster film'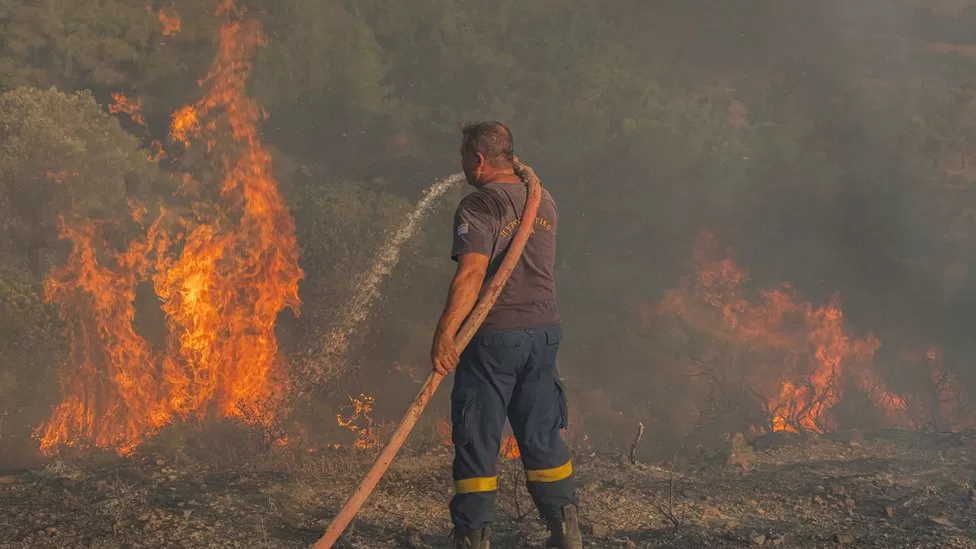 Hundreds of holidaymakers have returned to the UK following wildfires on Rhodes, with more flights scheduled.
Some 10,000 Britons are estimated to be on the Greek island, which has been ravaged by fierce fires.
Many holidaymakers have been forced to sleep in schools and sports centers as a result.
People should stay in touch with tour operators, some of which have begun sending flights to return them to the UK.
A large number of passengers arrived at Gatwick, Heathrow, Stansted, Birmingham, and Bristol airports on Monday as a result of flights from Rhodes.
Some tens of thousands of Brits are still waiting for flights home, including two newlyweds from Glasgow who described being on Rhodes as "being thrown into a disaster movie".
To assist Greek authorities and travel operators at Rhodes International Airport, six Foreign Office staff members and four British Red Cross responders have been deployed.
Downing Street has defended the Foreign Office's decision to advise against traveling to Rhodes, although it does recommend that you check with your travel operator or hotel first if you are planning to travel to any areas affected by wildfires.
"The current situation is affecting a limited area in Rhodes, and whilst it's right to keep it under review, and it's possible the advice may change, we don't want to overreact."
Outbound package holidays to Rhodes from EasyJet and Tui have been canceled until Saturday and Friday, respectively.
As fires that have already destroyed homes spread from the centre of the island to resorts on its eastern coast, some tourists were forced to flee their hotels, abandon their belongings, and sleep outside.
How are holiday companies helping?
Tui operated three "dedicated flights" from Rhodes to London overnight; a fourth is scheduled to arrive Monday night, and a fifth is scheduled for Tuesday morning. Tui flights to Rhodes have been cancelled until Friday, but customers who are currently on the island can return on their intended flights. Up to and including Sunday, all outbound flights for customers travelling to impacted hotels have been canceled. Refunds will be given to all customers due to travel on cancelled flights. There are 300 employees on the affected part of the island, according to Tui.

In addition to its nine scheduled flights between Rhodes and the UK, EasyJet will operate two rescue flights with a total of 421 seats on Monday and a third on Tuesday. Package holidays to affected Rhodes resorts have been canceled until Saturday. Additionally, it is contacting customers who are traveling to Rhodes up to 10 August to discuss their options.

There will be four repatriation flights operated by Jet2 on Monday night. A Jet2 flight left Leeds-Bradford at 23:00 local time and three others are scheduled to leave Manchester, Stansted and Birmingham after midnight. All Jet2 flights and holidays to Rhodes have been canceled. In order to bring people home, aircraft without passengers will fly there.

Customers who need to return early from Rhodes could change their flights for free, and those not wishing to travel there in the next week from the UK could postpone their flight. In order to accommodate those who need to return earlier, BA is providing a larger aircraft on the next flight.

The company said it had canceled some holidays to affected areas and offered full refunds. According to the airline, some customers booked to travel to other parts on Monday and Tuesday were being contacted with the option to cancel and receive a refund.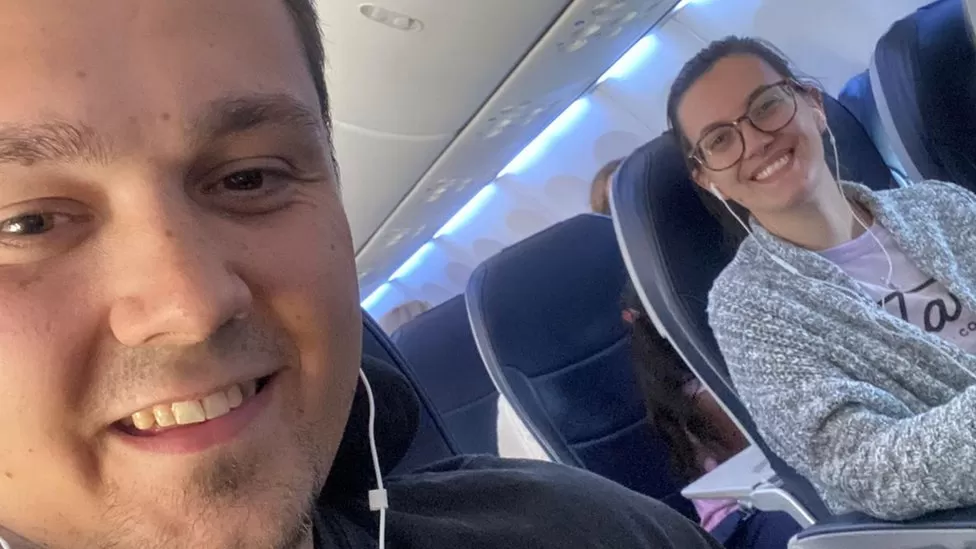 After arriving on Rhodes for their honeymoon over the weekend, Daniel and Luna Rolfe were taken directly to an evacuation center despite being assured by Tui it was safe to travel.
A Glaswegian couple who paid nearly £4,000 for their trip ended up sleeping on a school floor with other UK families.
The place was packed. I couldn't tell you how many people were there. There were a lot of rooms packed."
After finding an Airbnb on Sunday, the couple will have to leave it on Monday because it is fully booked.
"We've been in the dark and trying to figure out what's best for ourselves, since nothing has been done." said the graphic designer.
We've been thrown into a disaster film. It's been quite sad and seeing my wife upset has been challenging, but we're coping."