Rain and Labuschagne leave frustrated England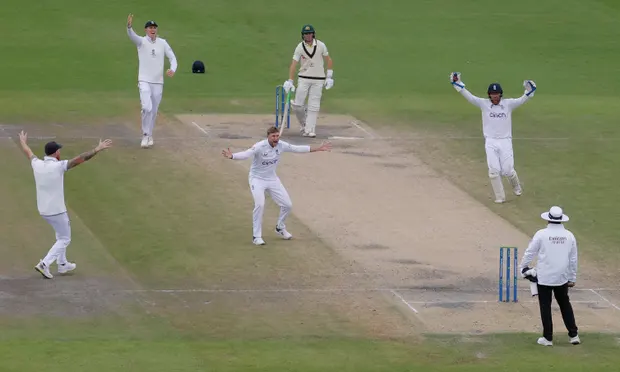 A frustrated England has one day to save the Ashes thanks to rain and Labuschagne
The fourth Test, day four: Australia 317 & 214-5; England 592
With only 30 overs bowled on day four, one wicket was taken
After a truncated Saturday in which Joe Root produced an innings-defining breakthrough, England and Australia face another nervy day of checking weather apps and interpreting cloud formations.
When play finally got under way at 2.45pm on the fourth day due to soggy conditions at Old Trafford, two hours of frustration followed for the hosts. With his second Test century on foreign soil, Marnus Labuschagne stymied their hopes of victory.
With Mitch Marsh on one, Australia 113 for four, and 162 in arrears in the third innings, Labuschagne batted with impressive tunnel vision. He had recovered from a vicious blow to the finger from Mark Wood, harvested his runs adroitly, and at 211 for no loss was tightening his side's grip.
Labuschagne attempted to cut Root behind square moments after punching Moeen Ali into the off side to reach three figures – vindication for his intense training before this Test match – only for the ball to bounce just a bit more, hit the gloves of Jonny Bairstow and be snatched up by the wicketkeeper.
The umpire, Nitin Menon, shook his head at England's appeals, but a review that followed confirmed he had smashed it. Labuschagne, one of the more reluctant batters on the circuit, had to go, out for 111 from 173 balls to provide the twist that 20,000 patients had been waiting for.
Despite his normally friendly demeanor, Root's celebration was filled with borderline rage and summed up the tension that had built. Also, his bowling was impressive, with Root almost producing a follow-up off Marsh – the ball just evading Harry Brook at short leg – and being certain he had removed Cameron Green, caught off the last ball of the session, only for England's review to be rejected.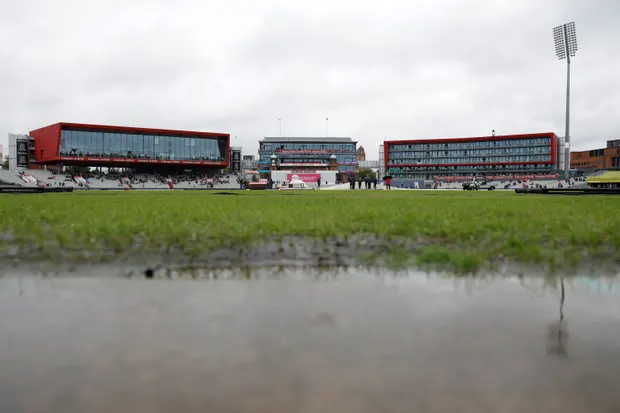 Having bowled only 30 overs on day four, Australia finished on 214 for five, still 61 runs behind their opponents. Once again, the forecast is dismal, as it was today, with England now needing five quick wickets to level the series and prevent Cummins from retaining the Ashes.
Root bowling in the final stages of this single session was a bit of a curio. There was little threat from England's frontline seamers bar Wood's short balls, with the wet outfield dampening the ball and a pitch still playing true allowing Labuschagne and Marsh to hunker down.
In 90 minutes, Stuart Broad spotted the ball was out of shape, prompting the arrival of a harder replacement who moved Jimmy Anderson a fraction. Stokes felt he had his chance to bring back Wood and some slips, but the officials deemed the light poor and only spinners could be used.
Seeing Elwood Blues in dark glasses in the supposed dark was a slightly bizarre sight for Joel Wilson, the second umpire in the middle. This tactic produced chances but also leaked runs, with Moeen still spitting out the odd one from the rough and Root attacked by Labuschagne, but also creating little moments.