Quran burning: Muslim nations condemn far right group's action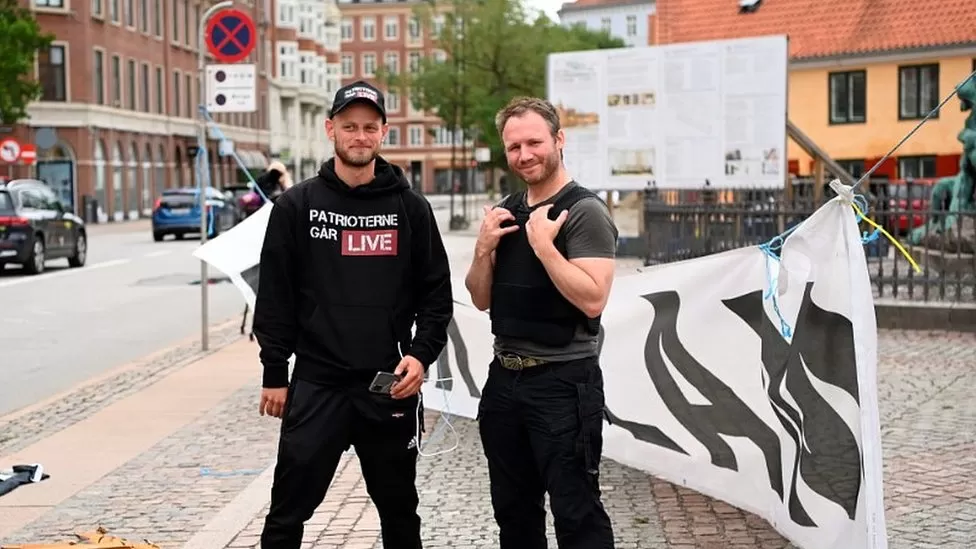 Some Muslim-majority countries, including Iraq, have strongly condemned Monday's burning of a Quran outside the Iraqi embassy in Copenhagen by a group called "Danish Patriots."
On Friday, a similar act was livestreamed on Facebook by the far-right group.
After that incident, nearly 1,000 demonstrators attempted to reach the Danish embassy in Baghdad.
Following the planned burning of a Quran in Stockholm, crowds set fire to Sweden's embassy in Baghdad last week.
A tin foil tray containing the holy book and an Iraqi flag was set on fire by two anti-Islam protesters in Denmark on Monday.
It said such acts allowed "the virus of extremism and hatred" to pose "a real threat to peaceful coexistence".
It is deeply offensive to Muslims when someone deliberately damages or disrespects the Quran, since they consider it to be the word of God.
As a result of the latest desecration of the book in Copenhagen, thousands of protesters rallied in Sanaa, the Yemeni capital, who raged against both Denmark and Sweden for allowing such behavior.
In response to the incident, Turkey called it a "despicable attack" on the Quran, while Algeria summoned the Danish ambassador and Swedish charge d'affaires.
In response to the earlier desecrations, Iran protested on Saturday as well. A local media outlet in Qatar reported that Swedish products had been removed from Souq Al Baladi, the country's biggest market.
Denmark's foreign ministry condemned today's burning of the Quran by a small number of individuals in a tweet.
We call on everyone to deescalate – violence must never be used as a response to these provocative and shameful acts."
The Danish embassy in Baghdad was prevented from receiving large crowds on Saturday by tear gas used by security forces. Bridges leading to the city's fortified Green Zone, where many foreign embassies are located, were closed.
On Friday, Sweden evacuated its embassy staff from Baghdad after protesters, mainly followers of Shia cleric Moqtada al-Sadr, stormed the building. The Swedish ambassador was also expelled from Iraq.
An Iraqi Christian refugee had been given permission by Swedish police to burn a Quran in Stockholm for the second time. Despite stamping on the book, he did not burn it.
In Stockholm, a court overturned a police ban, citing the right to freedom of assembly.
The Swedish government condemned the burning of the holy book as Islamophobic.