Portugal battles wildfires amid third heatwave of the year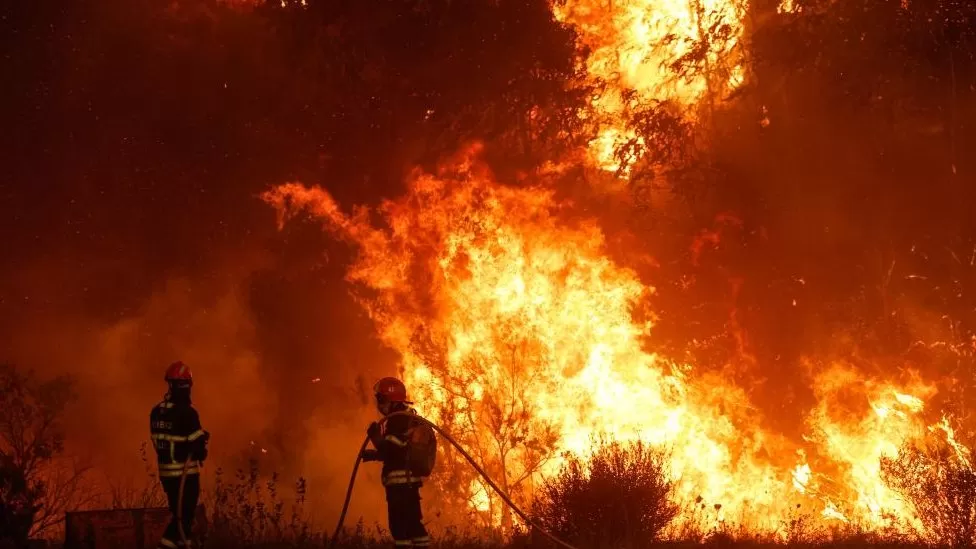 Approximately 800 firefighters fought a fire near the southern town of Odemira overnight on Monday, forcing more than 1,400 people to evacuate.
Nine firefighters have been injured fighting the fires.
Much of the Iberian peninsula is expected to experience temperatures over 40C (104F) this week.
Over the weekend, three major fires scorched hundreds of hectares in Spain, but weather alerts remain in effect across much of the country.
Santarém, Portugal, recorded the hottest temperature of the year so far, 46.4C (116F).
Strong winds pushed the fire south into the hilly interior of the Algarve, Portugal's main tourism region, on Saturday.
So far, it has destroyed 6,700 hectares (16,600 acres) of land and evacuated 19 villages, four tourist accommodations, and a camping site.
According to Helder Guerreiro, the town's mayor, the situation is "critical, difficult, and complex".
The A1 between Lisbon and Porto was closed between Lisbon and Porto due to other major fires in the center of the country.
A total of 16 waterbombing aircraft have been deployed to support firefighting efforts in both areas.
A total of 120 municipalities in Portugal have been declared at maximum risk of wildfires by authorities.
Southern Europe is swept by a deadly heatwave

Summer holidays could be forever changed by heatwaves

Blasts caused by Greek fires force F-16s to evacuate
Over 1,000 hectares (2,470 acres) of land were burned on Saturday and Sunday near the south-western coastal cities of Cadiz and Huelva and in the northern Catalonia region.
This week's heatwave will be the third to hit the Iberian peninsula this season.
Spain's State Meteorological Agency's Ruben del Campo said it was caused by a large mass of hot, dry air from North Africa and would be "generally more intense, more widespread and a little longer-lasting" than the July storms.
As a result of climate change, wildfires are likely to be fueled by hot, dry weather.
It has already warmed by about 1.1C since the industrial era began, and temperatures will continue to rise unless governments make steep cuts in emissions.