Police search under way for Liverpool player's father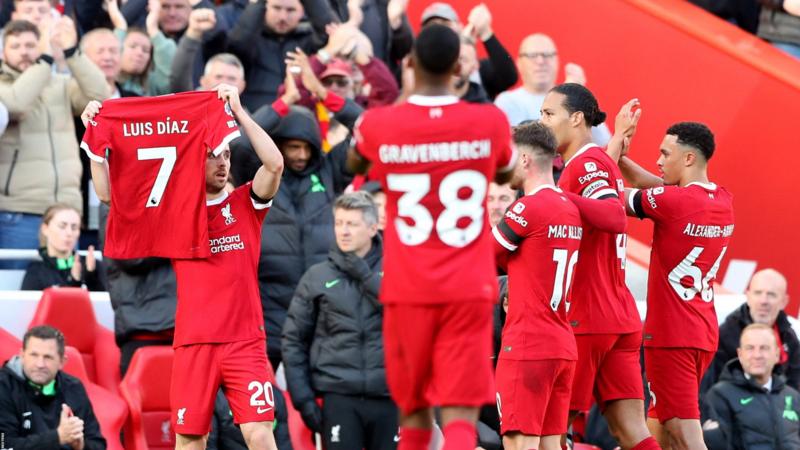 Colombian authorities are searching for the father of Liverpool forward Luis Diaz, offering a £40,000 reward for information that leads to his rescue.
The Colombian army and police searched northern Colombia on Sunday for Luis Manuel Diaz, amid reports that armed men had kidnapped him and his wife.
On Saturday, Cilenis Marulanda, the player's mother, was found in Barrancas.
The Liverpool team that defeated Nottingham Forest on Sunday was without Diaz.
As part of the search for his father, the army set up roadblocks, deployed unmanned aircraft, helicopters, and a radar plane.
Colombian authorities have not disclosed details about the reported kidnapping, but local media reported that Diaz's mother and father were taken by armed men on motorcycles at a gas station in Barrancas, their hometown in La Guajira, the northern region of the country.
To find Diaz's father, Colombian President Gustavo Petro said that "all public forces have been mobilized.".
On Sunday, General William Rene Salamanca, director of the National Police, announced a reward of "up to 200 million pesos" (about £40,000).
Deputy Attorney General Francisco Barbosa said he contacted Diaz twice to provide him with updates on the investigation.
Diaz was informed by Barbosa that information has been obtained regarding the possibility that his father is in Venezuela – a situation that requires President Petro's intervention.
The Liverpool manager dedicated Sunday's 3-0 Premier League victory over Forest to Diaz, saying, "We won for our brother."
Diogo Jota held up Diaz's number seven shirt after scoring Liverpool's first goal surrounded by his teammates.
Prior to the game, Liverpool said they were aware of an ongoing situation involving Diaz's family and that his welfare was their immediate concern.
Kidnappings in Colombia have declined dramatically since 2000, when guerilla groups or criminal gangs seized more than 3,500 people.