Police investigating death during heavy rain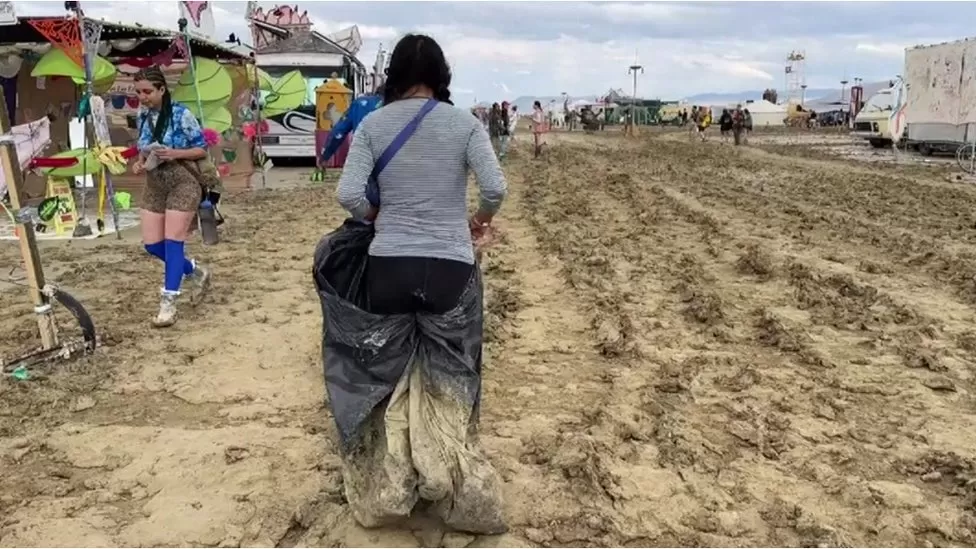 After bad weather turned the ground into deep, slippery mud, thousands of people remain stranded at the event.
Vehicles cannot move in and out of the event, so revelers are advised to take shelter and conserve their food.
It is usually dry and dusty in the Black Rock Desert, where Burning Man takes place.
On Saturday, the Pershing County Sheriff's Office said it is investigating a death that occurred during this rain event, but did not provide any further details. According to the statement, the person's family had been notified.
Toward the end of the nine-day festival, when the largest crowds gather to see the burning of the giant wooden effigy, unusual rainstorms hit.
Weather reports that the worst of the rain has passed, but there is still a chance of further showers and thunderstorms.
People have been told to conserve food, water, and fuel until the ground dries up enough for them to leave.
Two festival-goers told them that the toilets had now been emptied and restocked. The service vehicles were unable to drive on the mud to empty them, so they were left unused.
Some people who tried to drive out of the festival instead made the ground even more muddy, according to the sheriff's office.
Several festival-goers said they watched as some people tried to drive off, but soon became entangled in the thick clay-like mud. According to Milia Nirshberg, 12, who is attending the festival with her father for the second year in a row, they have let friends stay in the campervan and even let them use the toilet.
It's flooding in the tents, so we're inviting people to stay with us since they don't have food or water," she explained.
The Burning Man festival is one of America's most well-known arts and culture events. In the middle of the desert, visitors build a temporary city, and they are expected to be mostly self-sufficient.
Burning Man said in a statement, "We know this is a place where we bring everything we need to survive." "We are well prepared for weather events like this because of this."
According to Faye, a Burning Man participant from London, she has been covered in mud for three days.
"There are no showers here," she said. "The only thing you can do is wash with baby wipes inside your tent, but I might run out by tomorrow."