PM sees potential to increase food exports to Gulf states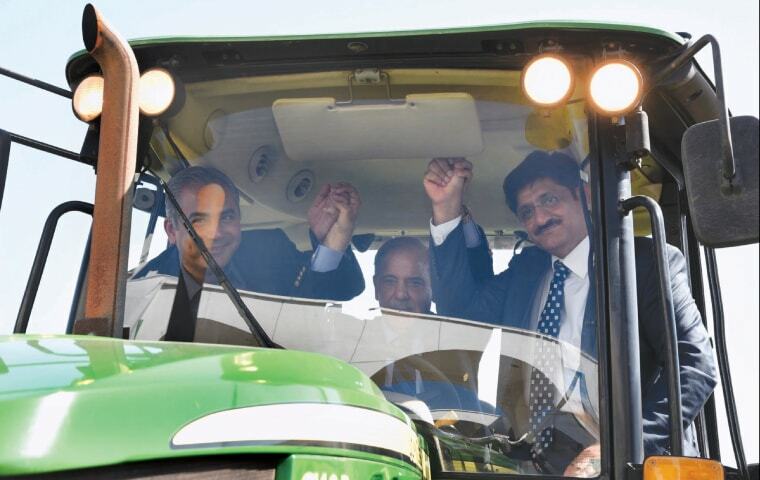 Pakistan could attract $40 billion to $50 billion in investment and increase food exports to Gulf states within two years, Prime Minister Shehbaz Sharif said on Monday.
During a seminar on agriculture and food security, he called agriculture the backbone of the country, pointing out that farmers work tirelessly to provide food for millions.
As a result of the Green Pakistan Initiative, four million jobs will be created in the country, he said.
According to him, strengthening the country's food security and economic security is a matter of national security.
Agriculture minister warns of strict action over adulterated drugs given to farmers
It was the government's responsibility to provide all possible assistance to the farmers for overall development and progress, he said. Farmers were entitled to incentives for the agriculture sector.
Growing the agriculture sector would put Pakistan on par with developed countries, the prime minister said.
In the 1960s, new varieties of seeds were introduced, dams and canals were constructed, and modern farming practices were adopted to ensure the country's progress.
Farmer profits, including those from wheat production, should exceed the cost of production. According to him, the government did increase wheat support prices, which resulted in record wheat production.
In addition to providing incentives, the government should provide standard seeds, fertilisers, and pesticides to farmers as well as equip them with the latest technology to increase cotton production.
In addition to providing real-time information about pest attacks, Mr Sharif appreciated the new agriculture initiative.
Farmers are being given adulterated drugs, and he warned that strict action will be taken against the culprits.
During his speech, Syed Asim Munir praised the Army Chief's vision for agriculture development.
It will take collaboration between the federal and provincial governments, agriculture departments, and research institutes to implement the vision for agriculture.
As a result of a culture of favouritism, the government is ready to fund agriculture research centers.
According to Mr Sharif, state-owned enterprises lose Rs600bn a year. A burden on the economy is Pakistan's import of $4.5 billion worth of palm oil.
At one point, Pakistan produced more cotton than its neighbour, but then it lost track and staple crops production declined, he said.
In order to prevent its economy from defaulting, Pakistan had to get loans from friendly countries.
To boost crop production in the country, Gulf countries are willing to invest in the agriculture sector.
In an unstable environment, investors shied away from Pakistan, he said, so Pakistan needs political stability to attract investments.