Pakistani racer Enaam Ahmed secures top eight finish in IndyNXT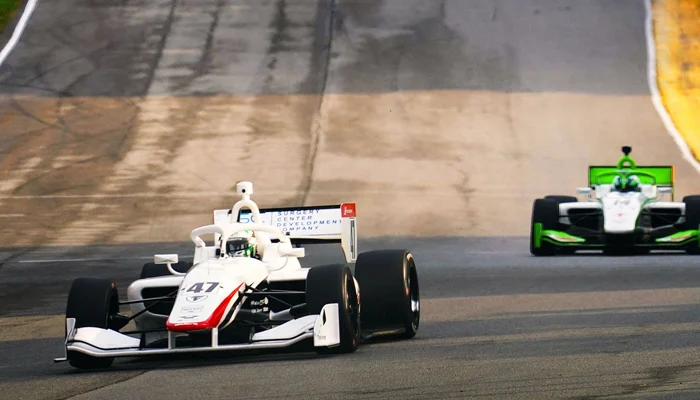 The British-Pakistani racer Enaam Ahmed finished in the top 10 this past weekend in the IndyNXT by Firestone race, which was treacherously wet.
Mid-Ohio Sports Car Course hosted the seventh round of the 2023 season, and many American fans camp in tents and trailers to watch the action from the track, which has so many elevation changes that it resembles a roller coaster.
After starting 11th in the Mid-Ohio Grand Prix, Ahmed quickly moved up the field. In the first lap alone, the Pakistani Panther had climbed into the top 10 and was looking for more.
Ahmed was racing at 180 mph when the track was still wet from heavy rain just hours before the race. A light mist began falling during the race, making the track surface even slicker.
At every opportunity, Ahmed, 23, attacked for position unafraid of the challenge. Rasmus Lindh nearly pushed him into the wet grass, but he smartly backed out.
His purpose-built race car would have become stuck as soon as it touched the wet grass lining the track, ending his race immediately. After regaining his composure, Ahmed was able to pass Lindh a few laps later, using his unmatched speed to gain another position.
Near the end of the race, the track conditions worsened, and multiple other drivers slid off into the grass despite being American racers of the highest caliber.
As long as Ahmed kept his Cape Motorsports car on the racing surface, he was more than happy to take over the positions lost by those who crashed. A British Formula F3 champion, Ahmed has a lot of experience racing in cool and rainy conditions, and it showed this weekend.
Ahmed explained how he gained positions by capitalizing on the restarts' first laps. My overtaking was good every time there was a restart. There was a lot of slick weather.
It's just that the team gets to the track too late in the weekend, so we are making good improvements to the car. That's just due to our lack of experience. It's Cape Motorsport's first year doing IndyNXT, and we're up against teams that have been doing this for 10-20 years.
Eventually, we'll get it right, and once we're at the front, I know we can win."
It was Ahmed's third time finishing in the top eight, even though he is a rookie. In 2023, he will still have half of the season left to prove himself.