Oprah and The Rock pledge direct payments to victims in Maui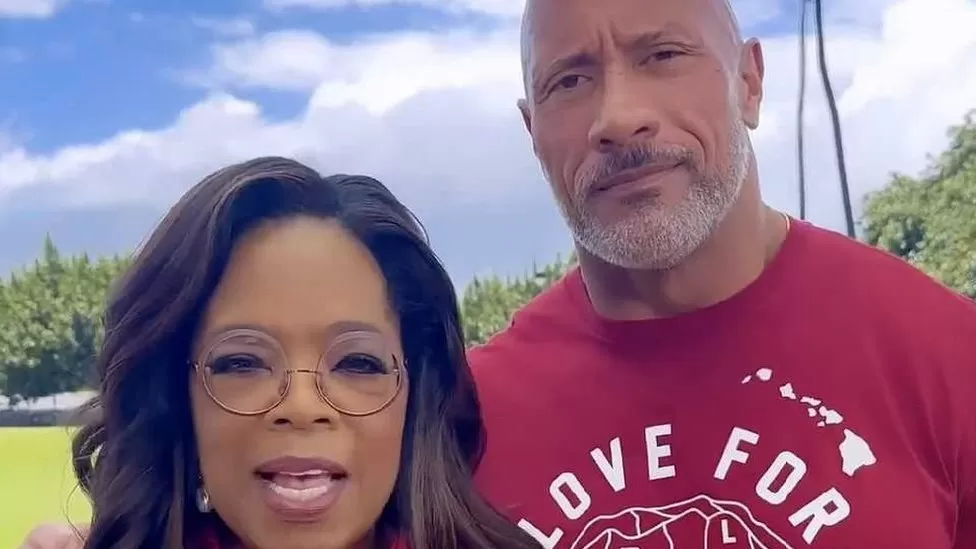 A fund set up by Dwyane Johnson and Oprah Winfrey will provide direct payments to Hawaii residents affected by the Maui wildfires.
It aims to make monthly payments of $1,200 (£950) to the thousands of victims of the fires that swept the island recently.
As part of the fundraiser, the two celebrities have donated $10m, and they have asked the public for further contributions.
In three weeks, 115 people have died, but many are still missing.
Wildfires in Lahaina and Kula on Maui destroyed the homes of adults.
Owners who do not live in ruined buildings are not eligible for the program.
As a result of collaboration with an esteemed advisory board and support from community members and respected elders, this new fund will serve as a bridge to help families and individuals affected by these disasters to be able to use the funds as they see fit," the fundraiser said.
In an Instagram video with The Rock, Winfrey said, "Our goal is to empower people to make their own decisions about what they need and what their family needs."
As the Rock says, "Even in the most difficult of times, the people of Maui come together, and we rise."
We are incredibly grateful to have the opportunity to work with respected Maui community leaders to launch the People's Fund of Maui. These leaders are providing us with guidance so that money can be delivered directly to those who are most in need."
Federal Emergency Management Agency (Fema) has offered an initial payment of $700, but many say the money doesn't help with long-term recovery.