Niger: US envoy holds 'difficult' talks with junta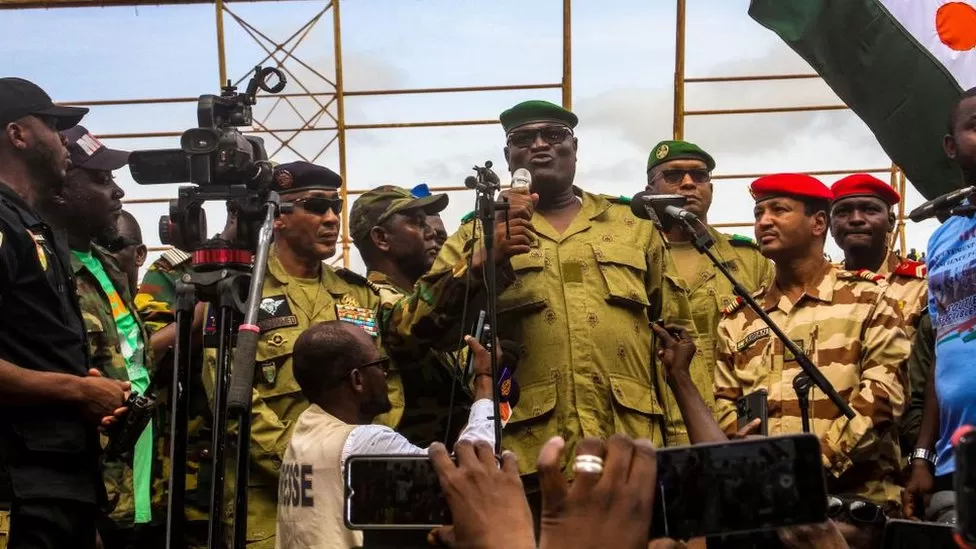 Following last month's coup, a senior US official held face-to-face talks with Niger's military leaders.
Deputy Secretary of State Victoria Nuland said the conversations had been "extremely frank and at times quite challenging".
As of now, Washington has suspended aid payments until the coup can be ended diplomatically and President Mohamed Bazoum reinstated.
On Thursday, West African countries will meet to discuss the crisis.
The Ecowas – a trading bloc of 15 West African nations – gave Niger's junta leaders until 23:00 GMT Sunday to stand down and restore the elected president.
Due to a threat of military action from the bloc, the coup leaders shut down Niger's airspace.
Ms Nuland told reporters from the capital Niamey that, in talks lasting more than two hours, the US had offered its assistance "if the people responsible for this wish to return to constitutional order".
"I would not say we took up that offer," she said.
While Nuland met the new military chief of staff, Brigadier General Moussa Salaou Barmou, she did not meet Niger's self-proclaimed leader, General Abdourahamane Tchiani, or Mr Bazoum.
Despite being detained, Mr Bazoum has spoken to US officials on the phone previously.
In addition, Nuland expressed concern about claims that coup leaders sought help from Russia's Wagner mercenary group.
Wagner's invitation to their country poses significant risks to the sovereignty of the people who have taken this action, she explained.
Former presidential guard chief Gen. Tchiani seized power on 26 July, claiming he wished to prevent Niger's gradual demise.
Former colonial power France issued a warning on Monday against citizens travelling to the Sahel region, and urged those still there to be cautious due to anti-France sentiment.
According to the foreign ministry, it is essential to limit travel, stay away from gatherings, and keep updated about the situation regularly.
According to reports, the military chiefs from Ecowas compiled a detailed plan for use of force, following reports that the junta in Niger had information that "a foreign power" was preparing to attack the country.
While "all the elements" of an "eventual intervention" had been worked out, Abdel-Fatau Musah, Ecowas' commissioner for political affairs, peace and security, insisted that diplomacy should work.
The Nigerian Senate discussed the situation in Niger over the weekend after President Bola Tinubu wrote about the Ecowas resolutions imposing sanctions.
The local media report there was strong opposition to military intervention, especially from senators representing states near the long border between the two countries.
As a result of the President's vocal demands for the Niger military to leave power, Tinubu has threatened to use force if they do not. However, any foreign military intervention must receive approval from the National Assembly.