Myanmar army cuts off aid to cyclone survivors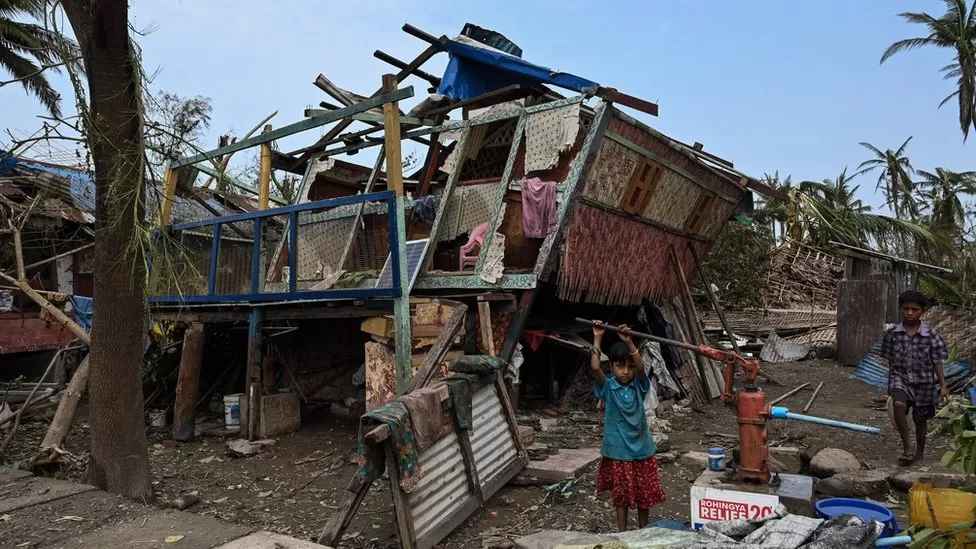 The government has blocked aid groups from entering the affected areas, leaving millions of people struggling to rebuild their lives.
In its statement, Human Rights Watch called the move "a man-made disaster that has turned a natural disaster into a man-made disaster."
On 14 May, Cyclone Mocha hit, wreaking havoc and killing hundreds of people.
Families who lost their homes a month ago struggle with dwindling aid.
Water and food are scarce in Sittwe, the capital of Rakhine state, which was ravaged by the storm, and finding either has been difficult. Rain has been falling all week, and we are struggling to keep the school roof over the children's heads."
As a result of the storm, all the houses collapsed. "I have nowhere to stay," San San Htay said, also living in Sittwe. "When it rains now, I am sitting in the rain." "I can't even sleep when it rains."
There have been only a few repairs to damaged homes, according to the UN's humanitarian office. According to the junta, 145 people were killed by the cyclone, but the clandestine National Unity Government estimates that there were closer to 500 dead. According to the Arakan Army, an ethnic insurgent group in Rakhine, more than 2,000 villages and 280,000 homes were destroyed by the storm.
Approximately 3.2 million people in Myanmar are considered "most vulnerable" due to Cyclone Mocha's path. As one of Myanmar's poorest states, Rakhine is home to Aye Kyawt Phyu and San San Htay. The World Bank estimates that 78% of its population lived below the poverty line as of 2019.
Aye Kyawt Phyu says, "We want Myanmar's government to allow foreign aid." Aye Kyawt Phyu says rice, clean water, and oil were brought in immediately after the storm.
As of 8 June, aid groups operating in the area were prohibited from transporting aid, which made it impossible for them to deliver aid.
There was no explanation provided by officials as to why this was done. Rakhine government spokesman told local media they wanted to manage aid distribution, which he claimed had been unfairly administered.
The NGOs only help the Muslim community, he said. Muslims in Rakhine are referred to as Rohingya.
Burma, a predominantly Buddhist country, has denied Rohingya citizenship and considered them unauthorised immigrants. Over half a million of them still live in northern Rakhine, although many have fled the country due to persecution.
Although these international groups claim to donate to Mocha [victims], the Rakhine community does not receive the donations, according to the spokesman.
The BBC reported that aid groups have not responded to the allegation, but that the Rohingya's ethnicity could have contributed to the decision.
According to Claire Gibbons, a non-profit that works in Myanmar, the Myanmar military has actively diminished the human rights of Rohingya communities and has put significant barriers in the way of our efforts to help them.
As a result of the cyclone, Rohingyas in Rakhine say life has been extremely difficult. Rohingya and Buddhist-majority Rakhine ethnic groups have also been at odds for decades.
Some people live in tents near the sea, while others live in damaged houses," said Khadija, who requested anonymity. The village she lives in is called Dapaing, and it is located on the coast.
Locals have died on the way to hospital since the cyclone, including women in labor, because finding transportation was often difficult.
Aid has been suspended before by the junta. A similar response was made in the aftermath of Cyclone Nargis in 2008, which killed more than 100,000 people.
Besides controlling humanitarian aid to the heavily sanctioned country, Gibbons suggested another reason for the army's action.
Additionally, they hope to benefit from aid assistance, as they did when Cyclone Nargis hit. Some of the aid they received ended up on the market, giving them the opportunity to profit."
As a result of the latest ban, some have called on international NGOs to reduce what they say is their "overdependence" on the junta.
Aid workers say international groups should work more closely with locals who have more boots on the ground – some even suggest armed resistance groups as potential partners. After the cyclone, the Arakan Army established a humanitarian wing.
The fate of Khadija and other cyclone survivors remains uncertain.
She says, "We don't know what will happen during this difficult time.". There is no telling whether we will survive or die during this time.