Maui fires: Survivors describe harrowing escapes from the flames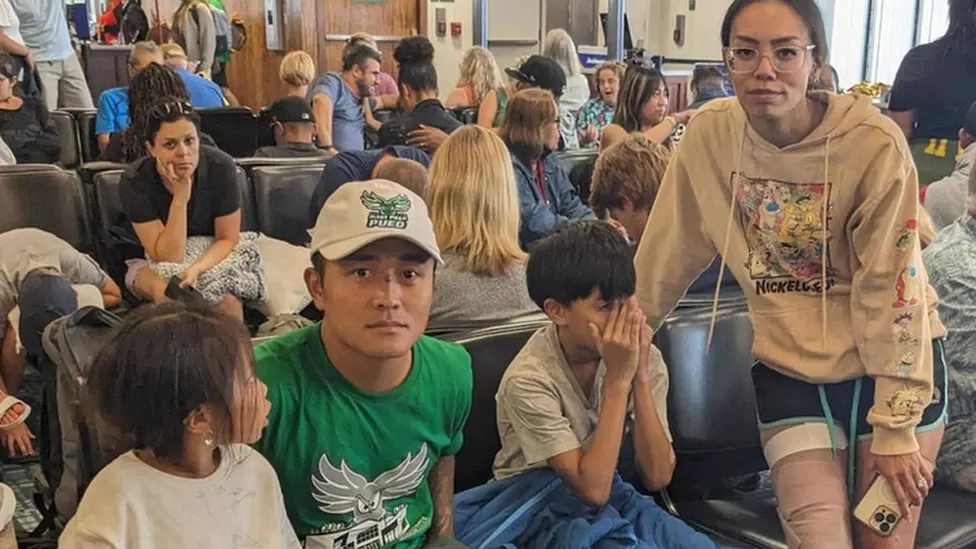 Seeing the flames inching closer to her and her three children, Tee Dang was driving on Front Street in Lahaina with her family.
Nevertheless, when the vehicles around them started catching fire, they grabbed their food, water, and phones and fled.
Others, including an elderly woman who was assisted into the ocean, had already attempted to flee the rapidly moving flames.
In a statement to News on Thursday, the Kansas mother said, "We must reach the ocean.". She added, "There was nothing else we could do."
In the beginning, they stayed close to shore with their children – ages five, thirteen, and twenty. When the tide rose in the evening, the water began smashing her into the harbour's rock wall, severely cutting her leg.
Several cars on Front Street started exploding, causing them to move into deeper water to seek shelter from the "shooting debris".
She said they were in the water for nearly four hours.
Due to wildfire smoke, the sky behind them was pitch black on a Tuesday afternoon.
For the family, it was a terrifying ordeal that left them wondering if they would survive. One of Mrs Dang's children fainted in the water at one point.
A firefighter guided them through the burning streets until they were rescued.
A firefighter told her: "I don't even know if we're gonna make it at this point. Just do everything I say. If I say jump, jump. If I tell you to run, run."
All members of the family were burned.
Despite reaching shelter at Maui Prep School, the family was forced to move twice more, including once when a shelter caught fire.
After a series of fires broke out across the Hawaiian island of Maui earlier this week, 17 more people died on Thursday afternoon, bringing the death toll to at least 53. Another tens of thousands have been displaced.
The historic town of Lahaina, home to 12,000 residents and a popular tourist destination, is hardest hit.
Hawaii Governor Josh Green called this the "largest natural disaster in state history" during a news conference on Thursday.
Gov. Green said the death toll would continue to rise. At this point, officials do not know how many people are missing as they survey the damage.
There is no 100% containment of any of the fires.
Gov. Green said the state is struggling to house thousands of displaced people. In response, he has asked Hawaiians elsewhere in the state to offer rooms and shelter to those in need.
Bryce Baraoidan, who lost his home with his family, is among those who have lost their homes.