Lagos metro train opens to public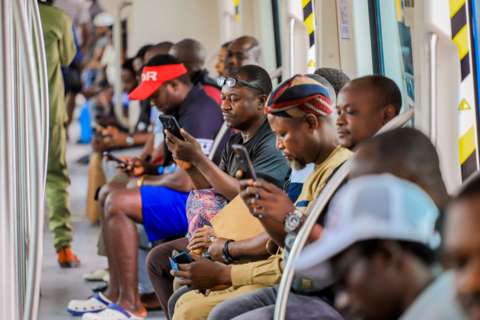 When the train began commercial operations months after its launch with test rides at the beginning of the year, Governor Babajide Sanwo-Olu was on board.
Business districts and residential areas are linked by the 13km (eight mile) Blue Line from Marina on Lagos Island to Mile 2 on the mainland.
It is expected that the train will ease traffic in the state, which is notorious for its traffic jams.
According to estimates, the new rail line could reduce journey times by as much as three hours on that route – though commuting times on the roads have reduced drastically since the fuel subsidy was removed.
On the overland route, there are five stations that can be covered in 30 minutes for 750 naira ($1; £0.80).
At full operation, there will be 76 trips during the morning and evening peak hours.
As part of the state's transport plan, which also includes ferries and Bus Rapid Transit, the Blue Line is one of six rail and monorail lines.