King's diplomatic speech to French Senate gets standing ovation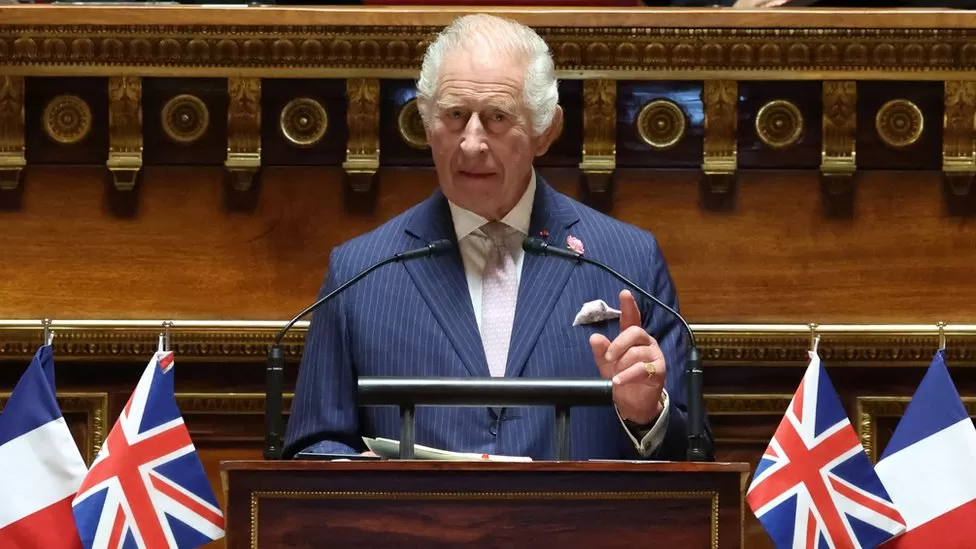 King Charles received a standing ovation for his speech to the French Senate, where he delivered a strongly-worded call for a victory for Ukraine in its war against Russia's "horrifying" invasion.
In addition to discussing climate change's "existential challenge," the speech was delivered in both French and English.
In light of Prime Minister Rishi Sunak's change over net zero, there was interest in seeing what the King would say.
It appeared, however, that any coded criticism was avoided by a diplomatically worded speech.
Despite our planet's great and grave challenges, the King told the Senate that it has been increasingly heartwarming to see our governments, our people, and more and more the private sector taking action.
As monarchs are advised by their ministers, such an official speech would be expected to maintain political neutrality.
It was certainly awkward timing for the prime minister's change of direction on net zero to coincide with a state visit focusing on environmental protection.
There will still be scrutiny for signs of a rift between Downing Street and Buckingham Palace on climate change.
According to the King, the encontre cordiale between France and Britain should be nurtured and cherished, but it also needs to be sustainable.
Taking inspiration from the wartime unity between Britain and France, the King referred to it as an example of joining forces for modern battles as he looked around the large Senate chamber.
The war in Ukraine was also seen as a struggle for democratic values, responding to the "unprovoked aggression on our continent" as well as climate change.
In a section delivered in French, the King said, "Together we are steadfast in our determination to triumph in Ukraine and to protect our cherished liberties."
In a speech that highlighted the long-standing alliance between the two countries, the King also highlighted how much his mother, the late Queen, loved France.
Despite the King's willingness to use so much French, it was a serious speech without many jokes, but it seems to have gone over well.
An expert on French language pronunciation and accent, Malcolm Massey of the Babbel language app, praised the King's French pronunciation.