King Charles's French language skills to boost his visit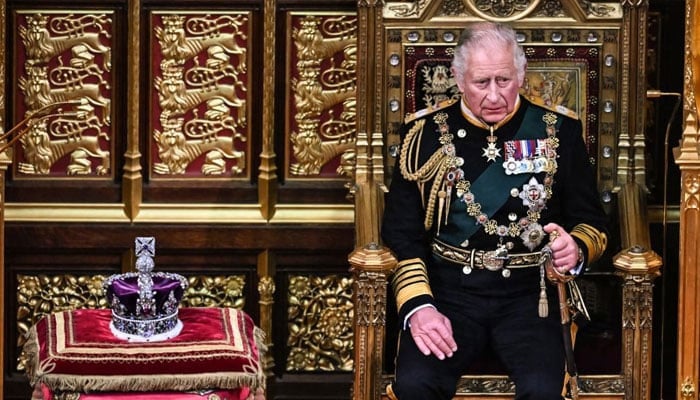 King Charles will be deploying his French language skills when he addresses France's Senate on a royal state visit later this month.
When the King delivered much of his speech to the Bundestag in German earlier this year, he won over a large audience of politicians.
Originally, the trip was cancelled due to protests over pensions, but it has been rescheduled.
Several events will be attended by the King in Paris and Bordeaux, according to Buckingham Palace.
King Charles and Queen Camilla's three-day trip to France was initially intended to be their symbolic first state visit, prioritizing re-establishment of European ties that had been weakened by Brexit.
It was overtaken by events in March, when demonstrations over pension changes prevented it from going ahead, especially when rioters set fire to one of the venues.
There are no concerns about disruptions, which were aimed at French politicians rather than the state visit at present.
It is anticipated that there will be photo opportunities with sports stars during the rearranged dates, which coincide with the Rugby World Cup.
It is the government's advice that such state visits take place, and they aim to reinforce French business, cultural, and military ties, including support for Ukraine.
Emmanuel Macron will host a full ceremonial agenda, including events at the Arc de Triomphe, the Elysee Palace, and the Palace of Versailles.
He will become the first British monarch to address both houses of the French parliament during his 35th official visit to France.
A charm offensive with multilingual cultural references and jokes will follow the example of his German speech to the Bundestag.
Foreign Office spokesperson said such trips produce a positive impact on trade, and the German trip became the King's inaugural state visit.
Her stay will be marked by the launch of a Franco-British literary prize, reflecting her interest in writing.
Among the activities will be a visit to an organic vineyard and meeting emergency workers who helped fight wildfires.
Deputy private secretary to the King Chris Fitzgerald said, "The state visit will celebrate Britain's relationship with France, marking our shared histories, cultures, and values."