Justin Bieber and Kid Laroi reunite two years after 'Stay' success.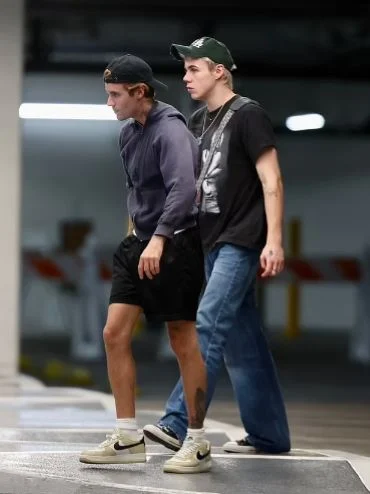 Two years after their successful collaboration on the chart-topping single, "Stay," Justin Bieber and The Kid Laroi had a memorable reunion.
On a Thursday, the two talented musicians were spotted at a popular Dave & Buster's sports bar and restaurant in Los Angeles.
During their exit from the venue, Bieber and Laroi, whose real name is Charlton Kenneth Jeffrey Howard, engaged in a friendly conversation.
For their casual outing, the 29-year-old "Baby" sensation wore black shorts with a dark blue hoodie over a white T-shirt and white Nike sneakers. Over his neatly groomed short light brown hair, Bieber wore a black baseball cap.
During their afternoon hangout, the Australian singer-songwriter Laroi wore baggy blue jeans, a black T-shirt, and black Converse sneakers.
It was when Bieber expressed his admiration for Laroi's music that Bieber and Laroi's bond began to grow.
It all started when Laroi released his song "Go," featuring the late rapper Juice WRLD. After Justin initiated a meeting, the collaboration resulted in the track "Unstable," which appeared on Justin's album "Justice."
As Laroi reflected on this collaboration, he said, "That definitely shocked me. I was like, 'Oh my god, that's crazy,' because I looked up to him as a kid.".
In 2021, they released the hit single "Stay" as a result of their creative synergy. Multiple countries, including Laroi's native Australia, Justin's native Canada, and the United States, ranked the song number one. For seven non-consecutive weeks, "Stay" topped the Billboard Hot 100 chart.
Bieber has played a significant role in bringing Laroi to the forefront of the music industry, particularly after he toured with Juice WRLD between 2018 and 2019.