Japanese Grand Prix Max Verstappen dominates Friday practice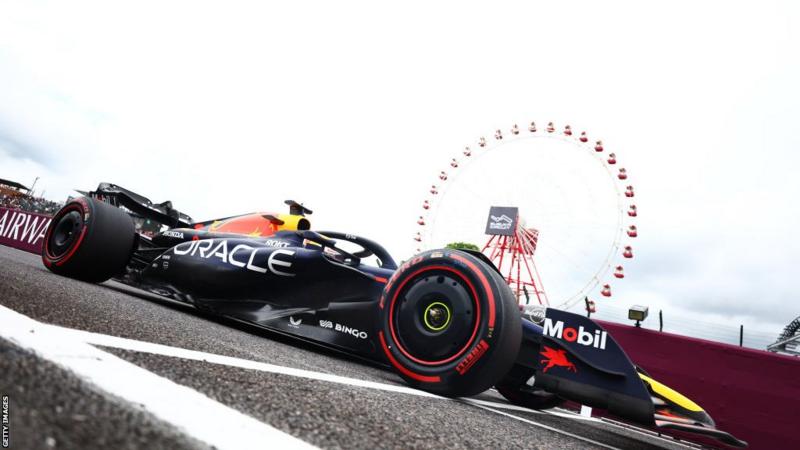 Max Verstappen dominated before Alpine's Pierre Gasly brought Friday practice to an early end at the Japanese Grand Prix with a crash.
When Gasly lost control at the tricky Degner Two corner, he locked a front wheel, slipped off track, and ripped off a front wheel.
In the end, Verstappen was 0.320 seconds faster than Ferrari's Charles Leclerc, and he appeared to be unbeatable.
Lando Norris finished third for McLaren, while Lewis Hamilton had a "bad day".
Hamilton was down in 14th place and 0.501secs slower than his Mercedes team-mate George Russell in fifth place.
The McLaren of Oscar Piastri and the Williams of Alex Albon were in second and third place, respectively. Aston Martin's Fernando Alonso was sixth fastest. The Red Bull's Sergio Perez finished ninth, a second behind Verstappen, and Alfa Romeo's Valtteri Bottas finished tenth.
Several other drivers had threatened to have an accident all day before Gasly's accident.
At one of the most demanding tracks on the calendar, Degner Two is arguably the most challenging corner. The first corner is preceded by The Degner One, a much faster bend, and drivers must brake for the second straight after flicking through the first, a task made more difficult by a compression in the middle.
Hamilton, Williams' Logan Sargeant, and Alfa Romeo's Zhou Guanyu all ran wide over the curb there during the day but managed to stay in control.
In comparison to Gasly's accident, it was a very different event. The rider locked the inside front wheel on his way in, slid onto the kerb, and once he hit the gravel a crash was almost inevitable.