HSBC executive sorry for saying UK 'weak' over China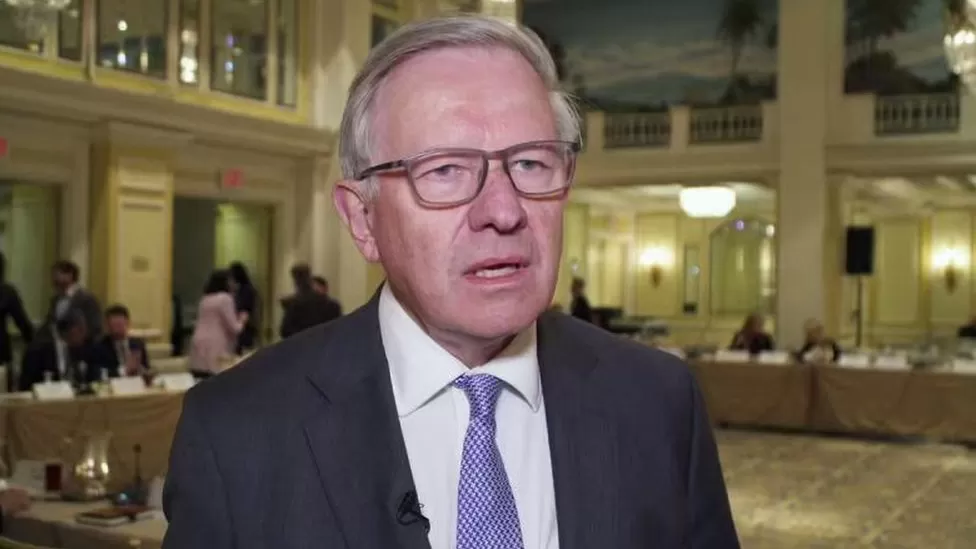 The head of public affairs at HSBC apologized after accusing the British government of being weak for complying with US demands.
During a private roundtable discussion, Sir Sherard Cowper-Coles shared his personal views, according to a bank spokesperson.
There has been an increase in tension between the United States and China in recent years.
In Asia, including China, the UK-based company makes most of its profit.
"I spoke at a private event under Chatham House Rules, and my comments do not reflect the views of HSBC or the China British Business Council. In a statement provided by HSBC, Sir Sherard, the chairman of the China-British Business Council lobby group, apologized for any offense caused.
As part of the Chatham House Rule, attendees of meetings may use information gained from discussions, but may not reveal who made any comments.
This rule was developed almost a century ago and is used to hold debates on controversial topics. It was named after the London headquarters of the Royal Institute of International Affairs.
As Bloomberg News first reported, Sir Sherard told the closed-door meeting that Britain often bows to US demands and should look after its own interests rather than following Washington blindly.
Bloomberg reports Sir Sherard told the meeting that the UK bowed to US demands by banning Chinese telecom giant Huawei from participating in the country's 5G network in 2020.
Over half of HSBC's profits come from mainland China and Hong Kong, which together account for over 80% of the bank's profits.
As a result, the global banking giant has to walk a fine diplomatic line between Washington and Beijing.
As the world's two biggest economies hit each other with trade restrictions, the UK and other Western governments have been caught in the crossfire.
The United States announced restrictions on Beijing's access to advanced computer chip technology in October.
Earlier this month, China imposed export restrictions on gallium and germanium, two semiconductor materials.