Hawaii fires: At least 36 killed as wildfires tear through Maui island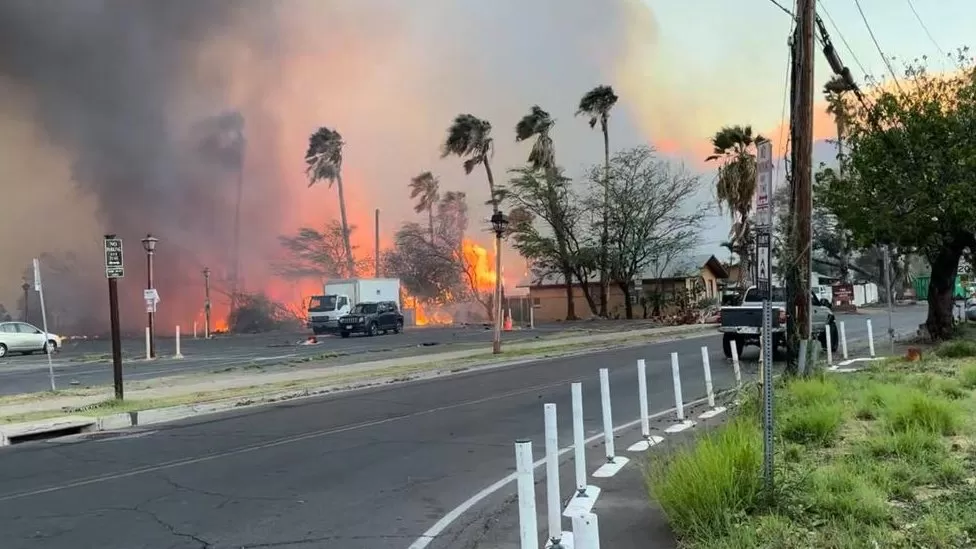 Maui's fast-moving wildfires have claimed the lives of at least 36 people, officials report.
Hundreds of buildings have been destroyed and some areas have been completely burned down by fires fanned by strong winds from a distant hurricane.
A state of emergency has been declared and thousands of people have been forced to evacuate their homes.
There is a huge search and rescue operation underway, but some people are still unaccounted for.
The Associated Press quoted Kamuela Kawaakoa as saying, "We barely made it out in time.".
Watching my town burn to ashes and not being able to do anything was so hard," he said. It was impossible for me to do anything."
On Maui, five evacuation shelters have been opened, and officials said they were "overrun" with people. Visitors have been advised to stay away from the island since it is a popular tourist destination.
As Hawaii Lt Governor Sylvia Luke told reporters, "this is not a safe place to be.". As she put it, "we are taxing our resources."
Helicopters are dropping water on the blazes from above as firefighters continue to battle active fires.
According to the Maui county government, 36 people have died in the current Lahaina fire as the firefighting efforts continue.
Images show that huge areas of Lahaina, a resort city and the main tourist destination on the island, have been destroyed by the fire.
Mason Jarvi, a resident of Lahaina, said, "We just experienced the worst disaster I've ever seen. The entire village is burned to a crisp. It's like an apocalypse." As he showed agency representatives images of the waterfront, it looked destroyed and blackened.
Jarvi said he suffered burns after riding his bike through the flames to save his dog.