Goalkeeper takes responsibility as Manchester United lose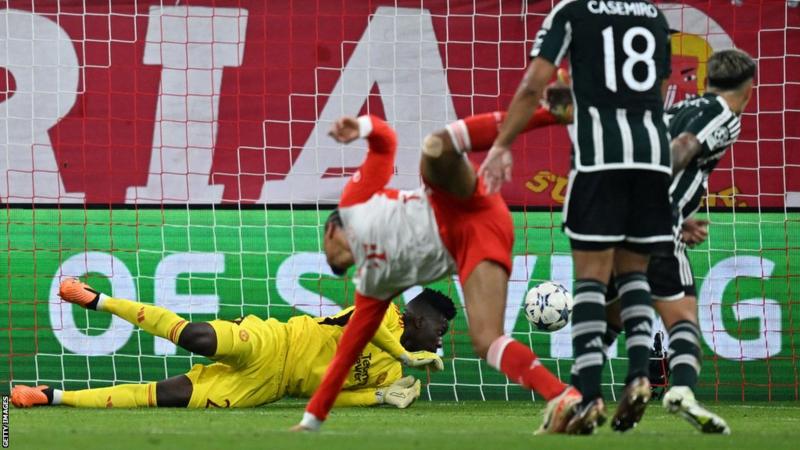 Manchester United goalkeeper Andre Onana says he has "let the team down" and that they failed to get a result at Bayern Munich "because of me".
Following United's disciplined start, Bayern quickly doubled their lead after Onana's error gifted them a crucial lead.
In the following moments, United scored several goals, but ultimately fell short, losing 4-3.
TNT Sports' Onana said, "This is the life of a goalkeeper.".
It's hard. We started very well. After my mistake, we lost control of the game. It's a tough situation for us, especially for me because I let the team down.
We played very well on the ball, they didn't create many chances, I made a mistake on their first shot on target, and the team lost.
It was because of me that we failed to win today.
I have a lot to prove. My start in Manchester hasn't been great, not how I wanted it to be. This was one of the worst games I've ever played."
According to Rio Ferdinand, a pundit for TNT, the mistake was crucial to the game, and he agreed with Onana's assessment.
It is all his fault that that goal was scored, he said. "It was an easy save. It's not a hard shot to deal with. That's what he would expect to make."
This epitomizes Manchester United's season so far. Most of the goals they have conceded could have been prevented. He hasn't dealt with a big moment."
Having helped Inter Milan to the Champions League final last season, Onana joined United for £47.2m in the summer.
In six matches across all competitions, the Cameroon international conceded 14 goals behind a shaky defence.
The team has now lost four of those six games this season.