Gabon coup leader Brice Nguema vows free elections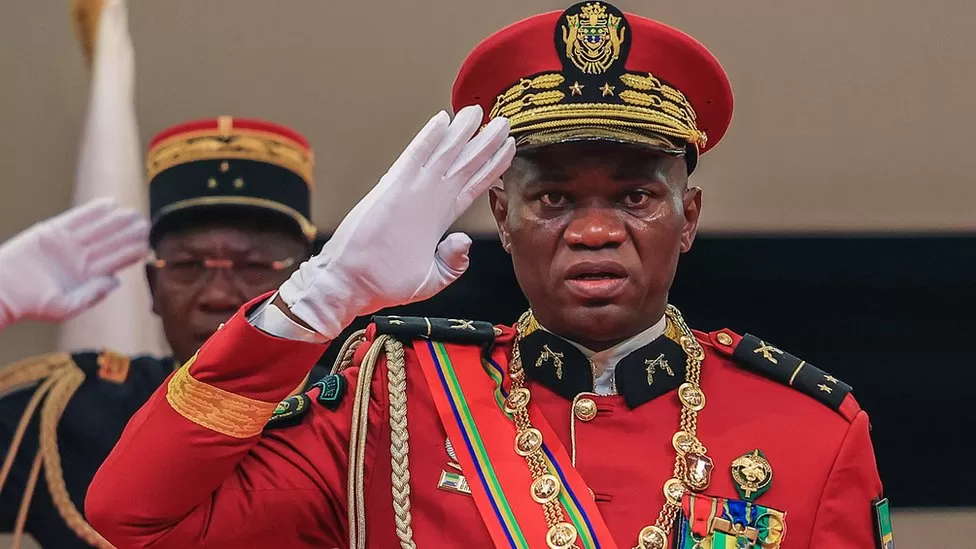 In his first speech after being sworn in as interim president, he did not mention an end date for military rule.
Following a disputed election result, Gen Brice Nguema led a coup against Ali Bongo on Wednesday.
Cheering civilians attended the inauguration – many were eager for change and welcomed the coup.
There are, however, those who argue that Gen Nguema's rule will be a continuation of the 55-year Bongo dynasty.
In 2009, Ali Bongo's father, Omar, died after 41 years in power and was succeeded by his son.
The general, aged 48, spent most of his career in the Bongo family and is even thought to be Ali Bongo's cousin. Gen Nguema, at Monday's inauguration, referenced South African Archbishop Desmond Tutu, French statesman Charles Fe Gaulle, and former Ghanaian leader Jerry Rawlings in a defiant speech.
The new president, dressed in the red ceremonial uniform of the Republican Guard, said, "This patriotic act will be taught in our schools.".
A new government would be formed "in a few days" and new electoral legislation, a new penal code, and a referendum on a new constitution were recommended.
He also said he had instructed the new government to "think without delay" about releasing all political prisoners.
Gabonese TV and online platforms broadcast the ceremony live.
A crowd of junta sympathizers booed former ministers from the ousted government who attended.