Former Thailand PM jailed after return from exile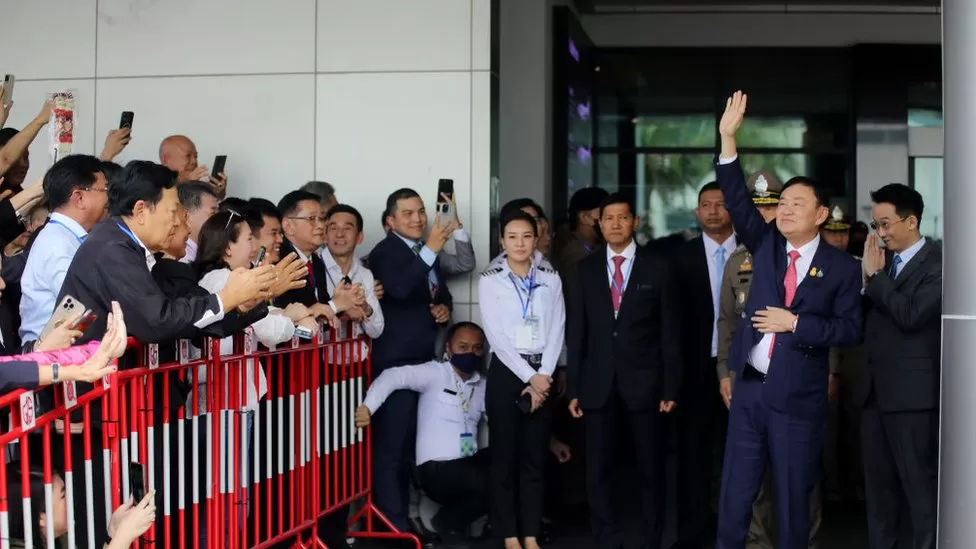 Upon returning to Thailand after 15 years in exile, former PM Thaksin Shinawatra was jailed.
Nevertheless, many believe he has struck a deal that will prevent him from serving more than a short sentence.
The frontrunner for the next Thai leader is Mr Thaksin's Pheu Thai party, which he arrived in a private jet on Tuesday.
Several criminal cases he claims were politically motivated have left him with sentences of up to eight years.
To weaken Mr Thaksin, Thailand's most successful elected leader, conservative royalists have backed military coups and contentious court cases.
He returned to Bangkok's main airport to cheers from hundreds of loyal supporters who had gathered overnight to see him. After emerging briefly from the terminal, he paid his respects to a portrait of the king and queen flanked by two daughters and a son.
After being sentenced to eight years for the outstanding charges, he was taken to Bangkok Remand Prison. He is "safe under the supervision of the staff," according to the corrections department.
Samniang Kongpolparn, 63, had been waiting outside Don Mueang Airport since Monday evening to see Mr Thaksin. Many of her supporters travelled from Surin province in the northeast, which used to be a stronghold of Mr Thaksin's party.
"He's the best prime minister we've ever had. Even though I won't see him today, I still wanted to show my support," she said. It is okay with me if they reconcile with the military government, otherwise we will be stuck with senators. Mr Thaksin's Pheu Thai party is expected later today to join a coalition government – completing a byzantine process that has brought Thailand full circle in three months.
A new dawn was envisioned by the radical young Move Forward party, which won the most seats in May.
In the beginning, Move Forward formed a partnership with Pheu Thai, but the coalition is now nearly certain to include almost everyone except the reformers, including two parties led by former coup leaders – a deal with its sworn enemies.
Pheu Thai insists the two developments are unrelated. There are few people who believe that.