Florida hunkers down for 'unprecedented' storm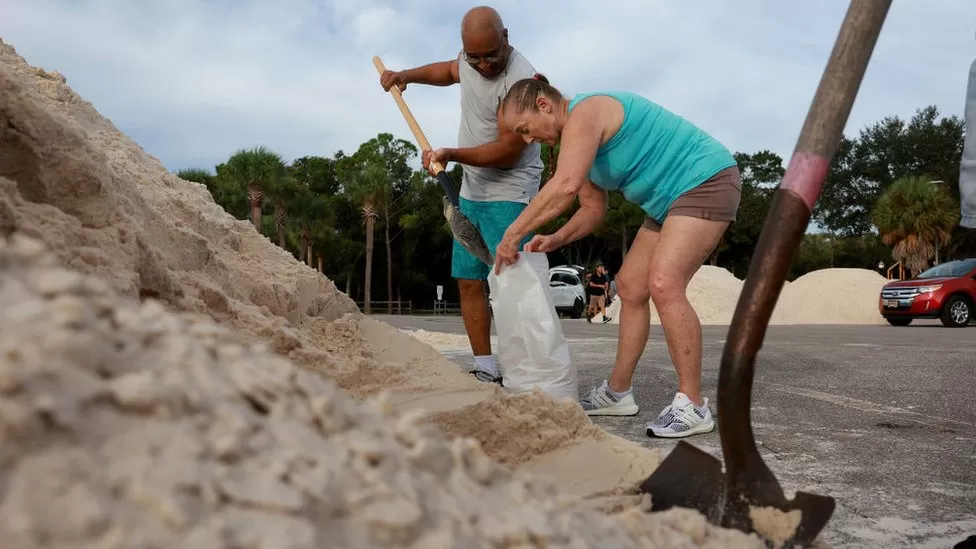 Wednesday morning, it is forecast to hit the Gulf Coast as a major Category 3 hurricane with winds up to 125mph (201km/h).
Idalia was predicted to bring "life-threatening" weather to the state by the National Hurricane Center (NHC).
Storm surges of up to 10-15ft (3-5m) could deluge coastal areas.
"Very few people can survive being in the path of a major storm surge, and this storm will be deadly if we don't take it seriously," said Chief Deanne Criswell of the Federal Emergency Management Agency.
With maximum sustained winds of 100 mph, the storm was upgraded to a Category 2 hurricane on Tuesday afternoon.
Governor Ron DeSantis said Idalia will hit the vulnerable coastal area of Big Bend, which hasn't been hit by such a major hurricane since the 1800s.
It lies roughly where the north-south portion of the state's peninsula bends along Apalachee Bay toward the east-west portion of the Panhandle.
Since 1851, no major hurricane has tracked into Apalachee Bay in north-western Florida.
Jamie Rhome, deputy director of the National Hurricane Center, told the that many people don't understand the power of a major hurricane.
Golden Gate, Naples, and Marco Island have already received tornado warnings as a result of Idalia's outer bands.
Twenty-eight of Florida's 67 counties were under evacuation orders as of Tuesday evening, including 14 mandatory orders in counties along the upper Gulf Coast.
Advising residents in evacuation areas to move to safety immediately, Mr DeSantis said they will not be able to do so until the storm passes.
"You don't have to run hundreds of miles, just get to higher ground, to a safe structure," DeSantis said.
Florida, including the densely populated Tampa area, is bracing for severe weather. The Tampa International Airport closed on Tuesday and will remain closed until Thursday morning.
Having moved to Florida from Pennsylvania a year ago, Chanel Jay is facing her second hurricane in a year.
As she hunkered down in an East Tampa shelter, she said, "Florida weather has a mind of its own."
On Tuesday afternoon, Mary Wolcott Martino, 79, a travel writer from St Petersburg in the Tampa Bay area, told Reuters she was packing up as quickly as possible.
Hard drives with family photos were among the items she grabbed that could not be replaced.
In five minutes, we'll be out the door," she said. According to Reuters, she and her husband are more concerned about storm surges than winds, so they are not boarding up their home as they have in the past.
She said, "We're just nine feet above sea level on the canal."