First certified passenger-carrying air taxi takes flight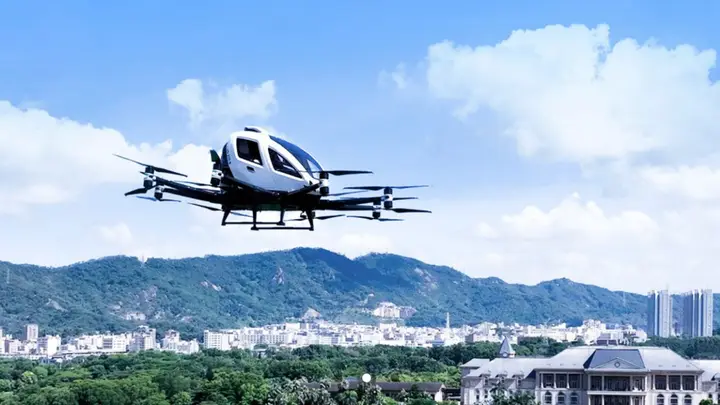 Ehang, based in China, has become the first company in the world to receive airworthiness certification for its fully autonomous, passenger-carrying air taxis.
Ehang's EH216-S air taxis are electric vertical takeoff and landing aircraft that can carry up to two passengers or 600 pounds of cargo. A rotorcraft has 16 electric rotors and has a top speed of 80 mph and a maximum range of 18 miles.
Air taxis are controlled by a centralized command and control center that monitors flight status, routes, and weather.
With a touchscreen inside the cabin, passengers can select their destination and enjoy the flight without worrying about piloting the aircraft themselves. 
Traditional infrastructure, such as airports and runways, is not required for air taxis. Vertical takeoffs and landings are possible from any flat surface, such as a rooftop, parking lot, or park.
In order to reduce environmental harm caused by emissions, air taxis use electric power. The batteries can be fully charged in two hours and are very quiet. 
Multiple redundancies are built into the EH216-S vehicles, such as backup batteries, rotors, and communication systems. 
Furthermore, they have emergency landing systems and parachutes in case of a malfunction.
Ehang's air taxis were evaluated by the CAAC based on over 500 parameters, including structural strength, software simulation, flight performance, and electromagnetic compatibility. A comprehensive laboratory, ground, and flight test process took more than 1,000 days.
According to Huazhi Hu, Ehang's founder-chair and CEO, "We will launch commercial operations of the EH216-S air taxis, prioritizing safety above all."