Export orders for lint start pouring in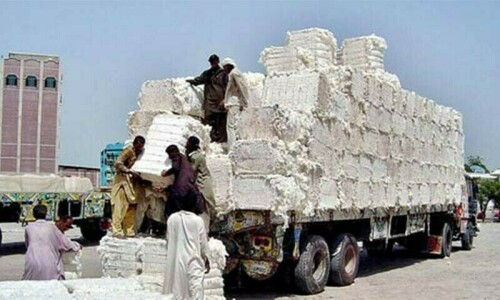 As Pakistan secures the first white lint export orders for the new crop, officials discuss measures to ensure cotton growers receive the support price.
Ishaq Dar, president of the Federal Reserve, and Mohsin Naqvi, caretaker chief minister of Punjab, met on Tuesday to discuss measures to ensure growers receive Rs8,500 per month as fixed support prices.
FBR chairman Gohar Ejaz, Aptma group leader Fuad Mukhtar, Anwar Ghani, and senior finance ministry officials attended the meeting. The meeting's details were not disclosed to the media.
Later in the day, the CM had advised cotton growers not to undersell their crop and stressed that the government will ensure cotton is sold at a minimum rate of Rs8,500 per pound.
Farmers would receive full value for their produce, and he instructed state commissioners and deputy commissioners to enforce this rate.
Cotton growers are being considered for support price support by the government
5,000 bales of cotton have been sold to importers in Thailand, Vietnam, Indonesia, and Bangladesh, says Dr Jassomal Lemani, former chairman of the Pakistan Cotton Ginners Association.
The total amount of cotton exported last year was 16,000 bales.
For his exports, Dr Jassomal says he has fetched between Rs18,500 and Rs17,500 per 40kg. He expects to begin shipping these contracts in the first or second week of August. In the coming days, more export agreements are expected to be signed by the ginners.
In coastal areas of Sindh, Cotton Ginners Forum chairman Ihsan-ul-Haq says cotton quality has improved significantly this year due to favourable temperatures during sowing and picking seasons. Consequently, Pakistan has started receiving early orders for cotton exports, and he hopes to achieve record-breaking exports this year.
Consequently, the Punjab and Sindh cotton prices reached Rs17,500 per maund in Punjab, and Rs17,000 per maund in Sindh, due to the delay in cotton procurement by ginners.