Europe: Portugal battles wildfires amid third heatwave of the year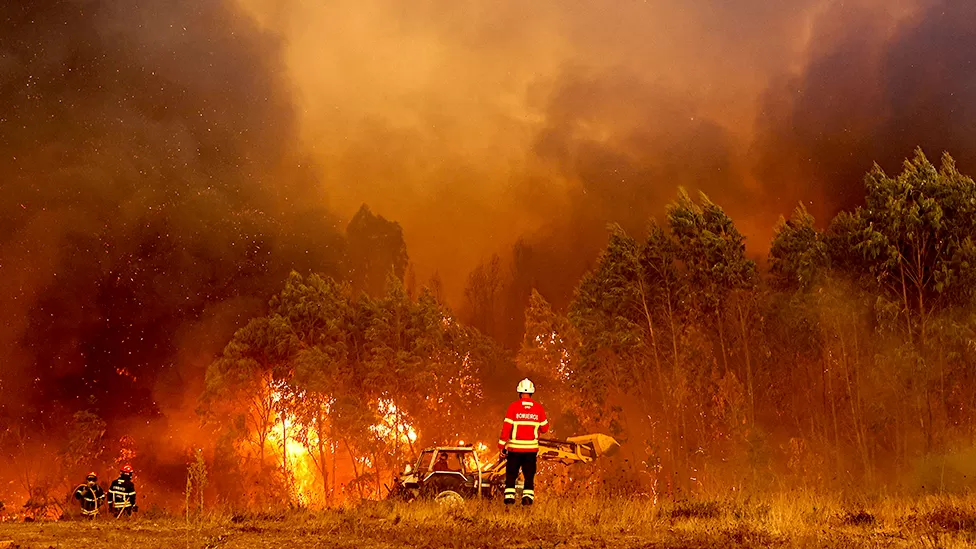 A wildfire engulfing thousands of hectares in Portugal is being fought by firefighters amid soaring temperatures.
Over 1,400 people were evacuated from Odemira, a town in the southern part of the country, due to a fire overnight Monday. More than 800 people had to be rescued.
The fight against the fires has resulted in the injury of nine firefighters.
This week, much of the Iberian peninsula is expected to experience temperatures above 40C (104F).
Spanish firefighters have brought three major fires that scorched hundreds of hectares over the weekend under control, but weather alerts remain in effect for much of the country.
It was the hottest day of the year so far in Santarém, Portugal, on Monday with a temperature of 46.4C (116F).
Strong winds drove the fire south into the hilly interior of the Algarve, Portugal's main tourism region, near Odemira, which began on Saturday.
As a result of the disaster, 6,700 hectares (16,600 acres) of land have been destroyed, and 19 villages, four tourist accommodations, and a camping site have been evacuated.
Holder Guerreiro, the mayor of the town, described the situation as "critical, challenging, and complex".
To escape a fire that burned part of his house last year, he had just an hour's notice to load up his car with some luggage and his dogs.
Despite the flames once again raging minutes from his home, he told Radio 4's World at One programme things had calmed "a little" on Tuesday "because the wind has dropped."
"We had a fast, hot, and dry wind coming from the east yesterday, which doubled the size of the fire in just a few hours," he said.
Many people were evacuated from their homes, a few hotels here had to send guests elsewhere, and we've had over 800 firefighters and about 280 vehicles since yesterday."
Commercial eucalyptus and pine forests have been destroyed in the area, he explained: "It's wild country, there are no roads going through it, so fires get into the valleys fast and hard, and when the wind blows… it's a dangerous thing to deal with."
"Firefighters can only direct it, try to push it somewhere where there are fewer trees, and hope that it naturally runs out of fuel."
In the center of the country, other major fires forced the closure of several sections of the A1 between Lisbon and Porto.
Waterbombing aircraft from 16 different companies have been deployed across both areas to assist with firefighting efforts.
Over 120 municipalities in Portugal have been declared at maximum risk of wildfires by authorities.
On Saturday and Sunday, fires in the southern coastal cities of Cadiz and Huelva and in northern Catalonia scorched more than 1,000 hectares (2,470 acres).
Iberian Peninsula will experience its third heatwave this summer with this week's.
Spain's State Meteorological Agency's Ruben del Campo told Reuters the storm was caused by hot, dry air from North Africa, and would be "generally more intense, more widespread and longer-lasting" than those in July.
Due to climate change, wildfires are more likely to be fueled by hot, dry weather.