Europe heatwave: Nearly all major Italian cities on red heat alert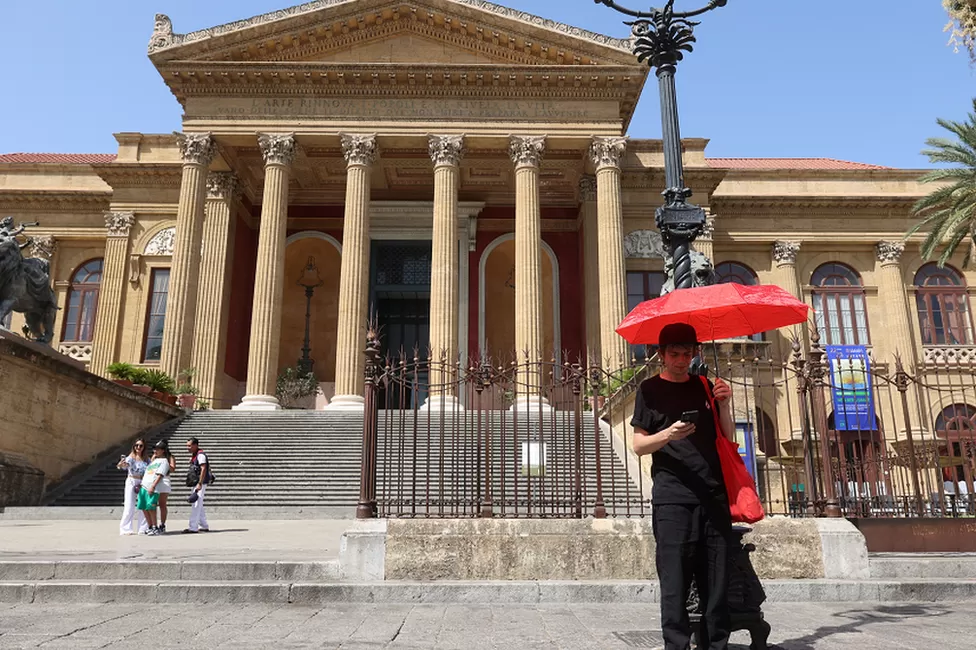 As a heatwave intensifies across Europe, red alerts have been issued in most of Italy's main cities.
From Trieste in the north-east to Messina in the south-west, 23 cities are on high alert due to temperatures expected to peak on Wednesday.
Heat warnings mean that everyone is at risk, not just vulnerable groups.
There are also wildfires raging across the continent, including in Greece and the Swiss Alps.
In the northern hemisphere, scorching temperatures are affecting millions of people.
There is a high pressure system bringing warmer, tropical air south of the jet stream currently stuck over central Europe, causing the storm.
Most of southern Europe is expected to experience temperatures in excess of 40C (104F) through Wednesday.
In Sardinia and Sicily, highs will be around 46C or 47C, according to BBC Weather.
It has been called settimana infernale, or the "week of hell" by local media.
The scorching heatwave in Europe in pictures
The buildings on Sicily are not equipped to deal with such high temperatures. Large families often live in small apartments with few windows on the ground floor, and many of them live together in small spaces.
A man and a woman aged 69 were found dead in their homes in Palermo, Sicily's capital, on Tuesday, with several local newspapers blaming the heat for their deaths.
Many people in the poorer south of Italy do not have access to air conditioning or fans.
There is a particular hardship on homeless people due to the heat.
Catholic charity Caritas, which provides shower services and homeless shelters in Palermo, is offering a shower service due to the heat, according to priest Sergio Ciresi.
"We've noticed that people are getting angry a lot more easily, and are fighting a lot more."
A high demand for air conditioning has also caused power cuts on the island.
A separate group of doctors will treat people with heat-related symptoms in emergency rooms throughout Italy, according to the Italian health ministry.
As Italy became the epicenter of Europe's Covid pandemic in 2020, similar measures were introduced.
The health ministry reports a 20% increase in patients with heat-related symptoms being admitted.
Patients who present with headache, tachycardia, dehydration, and confusion are more likely to be admitted, according to Dr Tiziana Maniscalchi, director of emergency medicine at a Palermo hospital.
The extreme heat contributed to the deaths of some of her patients.
Those with fragile health can suffer devastating consequences if exposed to these temperatures, she said.
"I am worried because the most vulnerable and frail will bear the brunt of the consequences."
Rome recorded a record-high temperature of 41.8C on Tuesday.
Spanish, Greek, and Balkan countries are also under red alert.