Europe heatwave: Greece wildfires Eighteen bodies found in Greek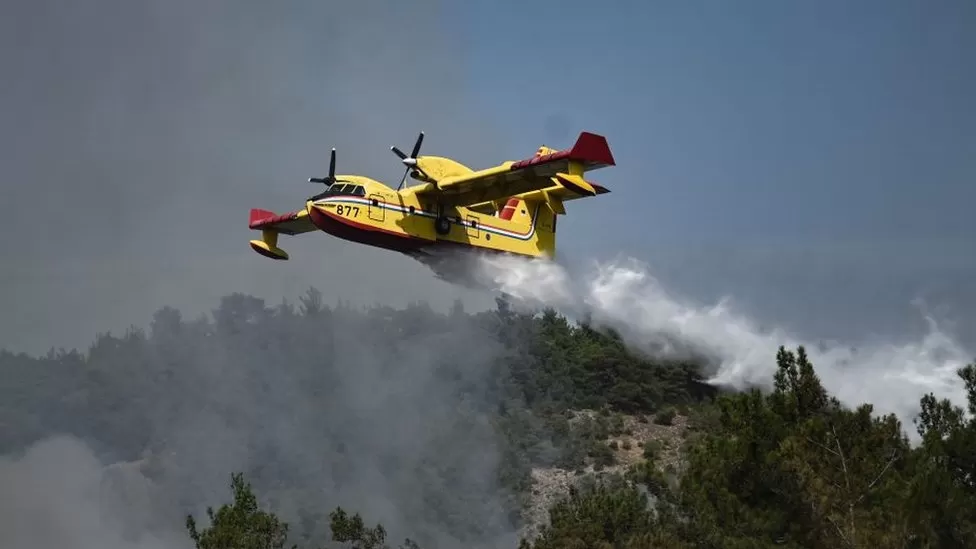 Eighteen bodies have been found in a forested area of northern Greece hit by wildfires for the past four days, the Greek fire service says.
According to initial reports, those who died may have been migrants. The scene near Dadia forest is being investigated by a coroner and an investigation team.
There have been fires in the Evros region of north-eastern Greece, not far from the Turkish border.
There was an evacuation of a hospital in Alexandroupolis.
Intensive care patients and newborn babies were among those moved by ferry to the port.
On Tuesday, high winds and temperatures topped 40C in several places in Greece, causing fires to rage across several fronts.
There has been rapid spread of flames in the large wooded Dadia national park north of Alexandroupolis since Monday. People in the surrounding areas were asked to leave via mobile text messages sent by emergency services.
It was reported that a migrant had died in the area prior to the recent grim discovery.
When the fire brigade inspected the charred remains of a building outside the village of Avantas on Tuesday, 18 more bodies were found.
In light of the lack of reports of missing residents, fire service spokesman Yiannis Artopios said the possibility that the victims entered Greece illegally was being investigated.
According to unconfirmed reports, the bodies were discovered in two groups, and the number of casualties may rise. The fire service said investigations were continuing throughout the area where the fire had spread.