EU and Japan look to partner on A.I. and chips as China 'de-risking' strategy continues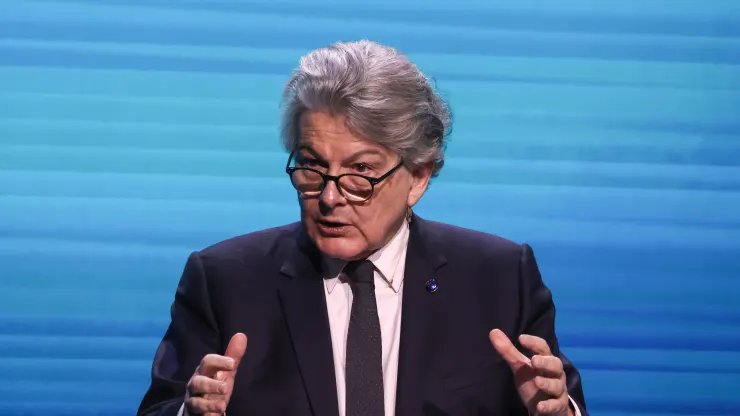 The following are the key points:
Thierry Breton, the EU's industry chief, said that the bloc is seeking closer collaboration with Japan on key technologies such as artificial intelligence.

Artificial intelligence will be "very high" on Thierry Breton's agenda at his meeting with the Japanese government on Monday, he said in a video posted on Twitter.

It is part of the EU's de-risking strategy to deepen its ties with allied countries around technology in order to reduce its exposure to China.
In order to reduce its reliance on China, the European Union wants to collaborate more closely with Japan on key technologies such as artificial intelligence.
According to a video posted on Twitter on Sunday, EU Commissioner Thierry Breton will discuss artificial intelligence extensively with the Japanese government on Monday.
Breton said he was looking forward to engaging with the Japanese government about how we can organize our digital space, including artificial intelligence, based on our shared values.
As part of the EU-Japan Digital Partnership, Breton said that quantum and high-performance computing would be discussed. Last week, the EU and South Korea held a similar council, where they agreed to cooperate on AI and cybersecurity.
As the EU looks to decouple its economy from China, it has forged partnerships with key Asian countries with strong technology sectors.
This EU strategy includes deepening ties with allied countries in the technology sector.
According to Breton, Japan and the EU will cooperate in semiconductors. In the semiconductor supply chain, Japan is a key player, and Tokyo is seeking to strengthen its domestic industry. A Japanese government-backed fund proposed buying JSR for around 903.9 billion yen ($6.3 billion) last week.
Throughout the EU, the semiconductor industry is also being strengthened.