English and Welsh football fans could be banned for mocking disasters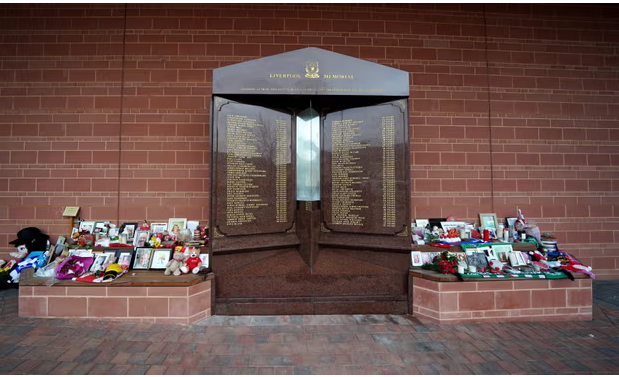 Under updated guidance from the Crown Prosecution Service, England and Wales football fans could be banned from watching matches if they mock tragedies such as the Hillsborough disaster.
A public order offence can be committed by singing, chanting or displaying offensive messages concerning disasters or accidents involving players or fans, according to CPS guidance.
English Football League, Premier League, and Football Association chief executives have endorsed it.
Prosecutors will use the guidance to make legal decisions on cases, and lawyers will be able to apply for football banning orders, which can prevent fans from attending matches and impose other restrictions, such as travel restrictions during tournaments like the 2024 European Championship or in certain areas. In addition to being allowed into pubs while games are being played, Douglas Mackay from the CPS said: "A small minority of so-called fans are damaging the sport's reputation and more importantly, this offense has a devastating impact on the families of victims and communities closely linked to these events."
The guidance would apply to chants about the 1958 Munich air crash that killed eight Manchester United players, the Bradford City fire in 1985, which killed 56 fans, and Emiliano Sala's plane crash in 2019.
As the National Police Chiefs' Council's lead on football policing, Mark Roberts, chief constable of Cheshire police, said his organisation was working closely with the CPS and welcomed the effort to fight mindless and vicious chanting by some supporters.
As the Premier League's chief executive, Richard Masters explained: "There is no place for abhorrent tragedy abuse in football.".
In addition to sanctioning those found guilty, we will also educate fans of all ages about the harm and unacceptable nature of this type of abuse.
There have been several successful prosecutions in recent months after abuse or offensive messages related to disasters.
In June, James White, a Manchester United supporter, was given a four-year football ban after he admitted wearing a shirt at Wembley that made an offensive reference to the Hillsborough disaster.
United issued an indefinite ban to White, 33, preventing him from attending all club activities.Darlow, 25, admitted making a gesture towards Liverpool fans during a Premier League match at Anfield in April suggesting that supporters without tickets had been partly to blame for the crush that led to 97 deaths. An inquest jury ruled in 2016 that the victims were unlawfully killed.
In recent years, there has been an increase in chanting and online trolling relating to Hillsborough, which has been described as "banterfication" of the disaster. Louise Brookes, whose brother was killed at Hillsborough, said "hatred of Liverpool fans" was fuelling the abuse.
"How dare these people get away with saying disgusting things about those who died at Hillsborough," she said. "You then have the survivors who are still traumatised by what happened, so seeing all this stuff online is a real danger to their mental wellbeing."