Dramatic footage of Mali plane crash emerges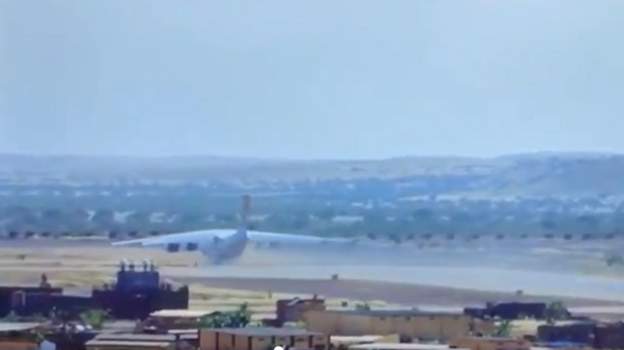 Last Saturday, a plane believed to have been operated by Mali's air force crashed and went up in flames at the airport in Gao, northern Mali.
Mercenaries from the Wagner group may have been on board, but this has not been independently confirmed.
As the plane lands, it appears to be a late touchdown, before overshooting the runway.
After powering through what appear to be concrete barriers, it tumbled down an embankment into a gulley and erupted into flames.
A Planet Labs' satellite image taken on Saturday morning captured smoke rising from the wreckage. A picture of the wreckage also appeared online, showing how a large part of the plane's body was consumed by the fire. Freshly disturbed ground between the wreckage and the runaway was also visible, indicating how it overshot.
Mali's army has not yet commented on the crash. AFP reports that the junta just paid tribute to a lieutenant colonel killed aboard the plane in Gao on Saturday.
It has come across social media posts paying tribute to a Russian pilot who died in the crash.
The Gao airport is used by Malian forces, Wagner mercenaries, and the UN peacekeeping mission in Mali.
In the north, Islamist militants and Tuareg rebels have increased their attacks.