Dick's Sporting Goods blames 'increasingly serious' theft problem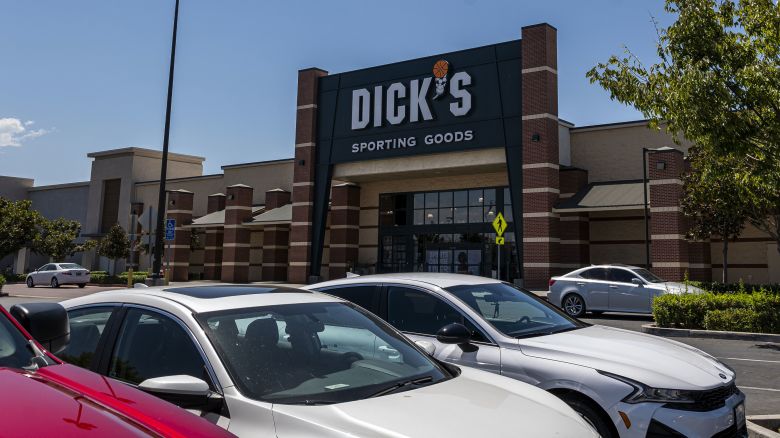 As a result of retail theft, Dick's Sporting Goods warned Tuesday that its annual profits would fall.
In spite of sales rising 3.6% in the period, the sporting goods and athletic clothing seller reported a 23% drop in profit in the second quarter. Tuesday, Dick's (DKS) shares plunged nearly 24%.
As a result of shrink, the industry term for theft and damaged inventory, the company's earnings were surprisingly low. Dick's is among the first to blame its lackluster quarterly financial report primarily on theft, despite warning investors about growing theft at other national retailers.
"Our [second-quarter] profitability was below our expectations due in large part to elevated inventory shrink, an issue facing many retailers," said CEO Lauren Hobart. "Shrinkage" in retail refers to merchandise that is lost due to theft, fraud, damage, accounting errors, etc.
Looking ahead, the retailer expects its earnings per share for the year to be 12% lower than its initial forecast. According to the Pittsburgh-based retailer, sales at stores open at least a year are expected to be flat to up by 2% for the full year.
The retail industry is struggling to deal with an escalation in crimes – from petty shoplifting to organized sprees of large-scale theft that clear shelves of products. As a result of rising thefts, Target has warned it will lose half a billion dollars this year. Nationally, the retailer reported a large number of incidents of shoplifting and organized retail crime.
The severity of crime does not appear to be increasing significantly. One major player in the industry has argued that the problem is being overhyped: Walgreens (WBA) changed its tune earlier this year on store theft hurting its business, saying, "Maybe we cried too much last year.".
However, industry observers say that mixed signals on the economy, persistent inflation, and rising borrowing costs may contribute to shoplifting.
Experts said that need and opportunity drive up retail crime incidents.