'Crybabies': Stokes gives hilarious reply to Australian newspaper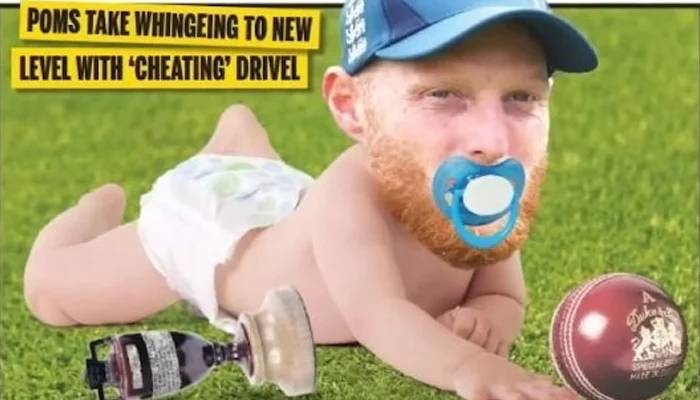 The West Australian's front page about Jonny Bairstow's stumping in the second Ashes Test at Lord's prompted a hilarious response from England Test captain Ben Stokes.
Bairstow was run out by Australian wicketkeeper Alex Carey while developing a partnership with Stokes. The series is now 2-0 in Australia's favor.
Stokes' head was photoshopped onto the body of a baby with a dummy in its mouth on the front page of the newspaper. In the main headline, Poms whine about 'cheating' drivel in a new light.
"That's definitely not me," Stokes commented when he saw a tweet of the cover, which highlighted the new cricket ball.

Earlier, the Marylebone Cricket Club (MCC) took strict action after altercations between its members and Australian players over Bairstow's run out on day five of the second Test.
During clashes with Usman Khawaja and David Warner in the Long Room, three Australians were suspended.
Additionally, the MCC issued a statement apologizing "unreservedly" to the Australians.
During the investigation, they won't be able to return to Lord's.
"We maintain that the behavior of a small number of members was completely unacceptable, and although [Australia captain] Pat Cummins did not suggest any physical altercation following the match, it remains wholly unacceptable to act in such a manner, which is against the club's values.
Once again, Cricket Australia apologizes to the MCC for its behavior.