Comedian Lorna Rose Treen was voted the winner with her pun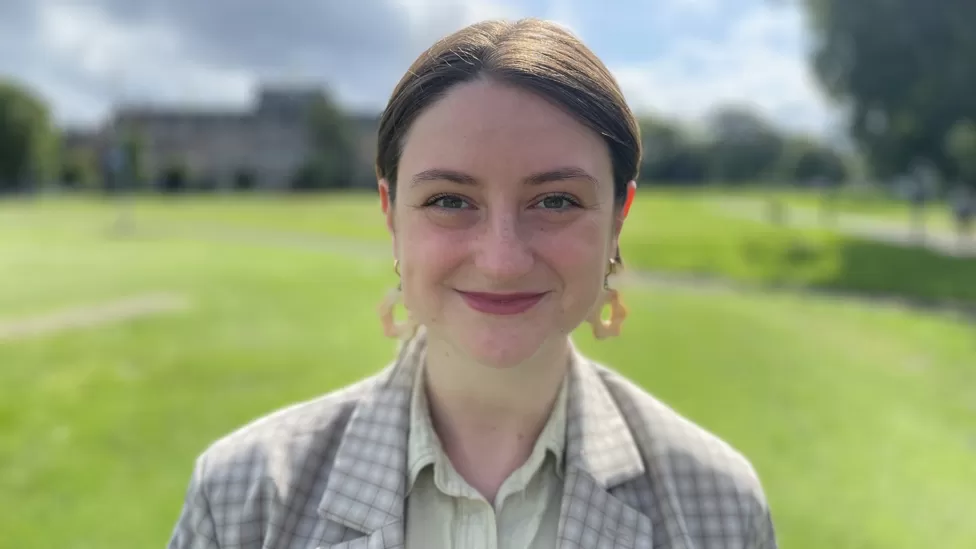 During the Edinburgh Festival Fringe, a joke about an unfaithful zookeeper won best gag.
Lorna Rose Treen won with her pun: "I started dating a zookeeper, but he turned out to be a cheetah."
The Dave's Funniest Joke of the Fringe is chosen by members of the public from a shortlist compiled by judges.
Among the best one-liners, 44% of those surveyed chose the zookeeper one.
It is the first time a female comedian has won the award since Zoe Lyons in 2008 at the very first Fringe joke award.
After learning that her joke won, she described herself as "blooming chuffed.".
Thank you so much for awarding this title to my stupid joke!" she said.
Graduate of the University of Edinburgh and former production trainee, Lorna has also studied theatre and clowning at the Ecole Philippe Gaulier in Paris.
As a native of the West Midlands, Lorna has won several comedy awards elsewhere and has been referred to as "the greatest thing to come out of Redditch since the fishing tackle".
With Skin Pigeon, she makes her Edinburgh Fringe debut with a multi-character show based in London. Her joke is delivered by a "film noir character with a mouth full of cigarettes".
At about 4am, she's talking to all these barkeepers – who are my audience – about her life, and that's one of the things she says."
Now in its 14th year, the Joke of the Fringe Award has runner up Masai Graham from last year.
Among the previous winners are Ken Cheng, Olaf Falafel, Tim Vine, Rob Auton, Stewart Francis, Zoe Lyons, and Nick Helm.