Coinbase CEO says 'end of the crypto industry in the US'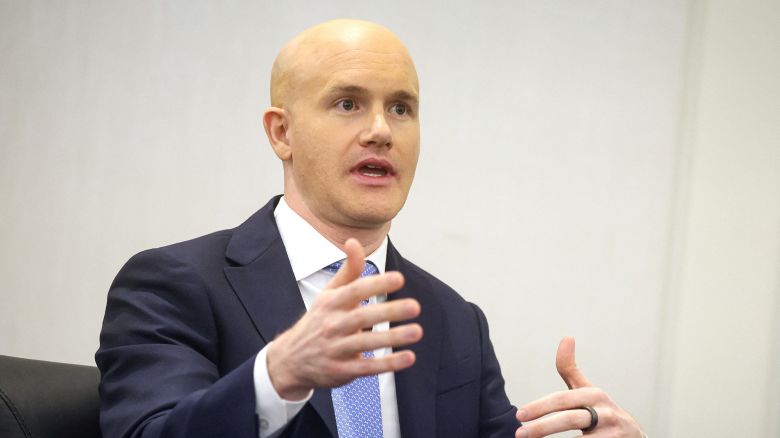 Coinbase's chief executive told the Financial Times that the Securities and Exchange Commission asked the company to halt trading on all cryptocurrencies except bitcoin before suing it.
CEO Brian Armstrong said Coinbase had no choice but to take the matter to court because stopping those trades would have effectively ended the crypto industry in the US.
Armstrong told the FT in an interview published Monday, "We really didn't have a choice at that point."
SEC staff members do not request companies to delist cryptocurrency assets, an SEC spokesperson said Monday.
A spokesperson said the staff may share its own opinion on what conduct may raise questions for the Commission during an investigation.
Despite not disputing Armstrong's statements, Coinbase's spokesperson said the FT article "omits important context about our conversations with the SEC."
According to the spokesperson, the views expressed in the FT article may have represented those of some staff at the time, but not those of the Commission as a whole.
The companies added: "We are continuing our discussions with the Commission, but we believe that transparent and fair rulemaking and Congressional action represent the best path forward for American crypto users and the companies developing the crypto economy in the US."
Coinbase and its larger international rival, Binance, were sued by the SEC in early June, accusing them of operating illegal exchanges. A major escalation in the SEC's campaign to rein in the crypto industry after years of allowing it to operate without regulation was marked by the suits.
Prior to the lawsuit, Armstrong told the Financial Times that Coinbase had sought clarification from the SEC about how it determined that every digital asset other than bitcoin is a security.
Armstrong told the Financial Times: "They said they wouldn't explain it to you, but you should delist all assets except bitcoin."  
Crypto companies have long argued that their products should not be classified as traditional securities or commodities, arguing that they are a new kind of digital asset requiring bespoke rules and regulations. The SEC disagrees, and has said that most crypto offerings should be regulated on Wall Street in the same way as stocks and bonds.
A lawsuit against Coinbase and Binance could force Congress to act by sparking litigation and, ultimately, judicial reviews.
Coinbase shares, which went public in 2021, were up around 4% early Monday. In the past year, the stock has risen nearly 200%.