China's economy suffers new blow as exports drop 14% in July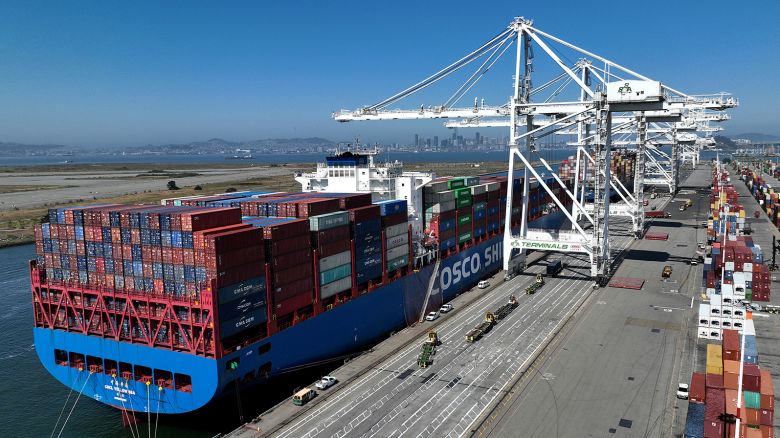 In July, China's exports plunged to their lowest level in more than three years as global demand slowed, adding further pressure on Beijing to stimulate its economy.
Chinese customs statistics released Tuesday show that exports fell 14.5% last month from a year ago, the biggest drop since February 2020, when the first Covid-19 outbreak battered trade and production.
As a result, exports have declined for the third consecutive month.
As Capital Economics analysts explained in a research note on Tuesday, the steep drop is due to last July's high number and lower prices. They estimated export volumes only dropped 0.9% in July from June when seasonality and export prices were taken into account.
According to analysts, exports are expected to decline further over the coming months as pandemic distortions unwind and monetary tightening weighs on consumer spending.
Many of the developed economies are still at risk of mild recessions later this year, they said, despite the near-term outlook for consumer spending.
In the first seven months of the year, China's exports decreased 5% from a year earlier. Specifically, China's shipments to the United States, its largest trading partner, dropped 13%.
Exports were a rare bright spot during the pandemic years, providing much-needed support for China's economy amid rigid Covid lockdowns and a slumping housing market. Last year, they accounted for 17% of China's GDP.
Global demand has been dampened by surging inflation and rising interest rates since last October.
Exports are weakening, which deals a fresh blow to the Chinese economy that has lost momentum since the start of the year. The signs of deflation are becoming more prevalent, raising concerns that China could enter a prolonged period of stagnation.
A Reuters poll of analysts predicted a 5% decline in China's imports in July, but the data showed they fell 12.4%.
In addition, import volumes have fallen to their lowest level since the beginning of the year, indicating a softening of the country's domestic demand.
In order to bolster the economy, Beijing needs to come up with more concrete and forceful plans, including major demand-boosting measures.