Caroline Wozniacki relishing Grand Slam return in New York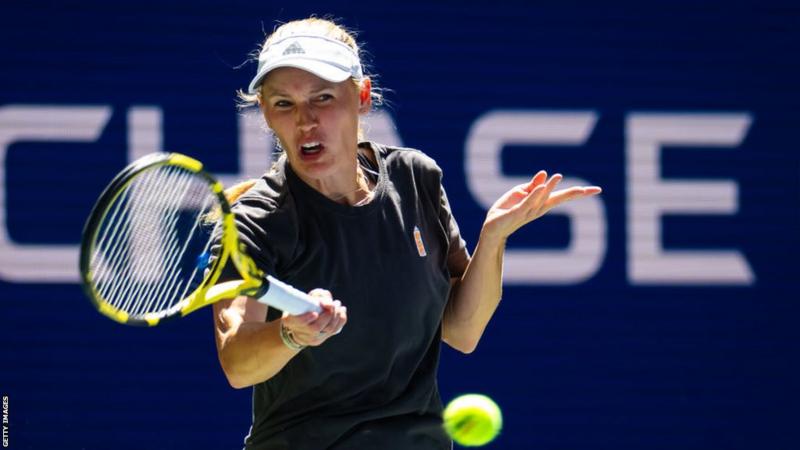 Caroline Wozniacki thought that was it when she waved farewell to the professional tennis circuit in January 2020.
The Australian Open crowd serenaded Wozniacki with Neil Diamond's anthemic 'Sweet Caroline' after her emotional goodbye, and Wozniacki had no idea where her racquets were.
In June, the 33-year-old announced she would return to the WTA Tour after giving birth to her second child last October.
She returns to Grand Slam action at the US Open on Monday after playing in Montreal and Cincinnati.
In 2018, Wozniacki won the Australian Open title and spent 71 weeks as the world's top player. "I didn't miss it," she said.
Having played since I was very, very young, it has been a part of my life and lifestyle for so long that I needed a break."
18 months before quitting, the Dane had been diagnosed with rheumatoid arthritis, but made it clear that she wanted to "achieve other things".
According to Wozniacki, she had enrolled at Harvard Business School and planned on exploring the world in what she described as a "slam-packed diary."
During a belated honeymoon with her husband David, the former NBA basketball player she married in 2019, the couple climbed Mount Kilimanjaro and hiked in the Polish Alps.
In June 2021, a year after Wozniacki retired, she announced she was pregnant with her first child. Last October, a son, James, joined the family.
The racquets were found shortly after his birth.
"I'll always love the game, no matter what, whether I'm 33 or 80," Wozniacki said before playing Russian qualifier Tatiana Prozorova in the evening session.
Hopefully, I'll always be fit enough to go out and hit some balls or play some doubles with my friends if I want to.
I just felt like I was hitting the ball extremely well, and I am still young enough to give it another try.
"You only live once, so why not make the most of it?"
"Take the chance when you feel like you still have a chance to do something really cool and really good.
"You'll never know unless you try it."