Canadian autoworkers union reaches tentative labor deal with Ford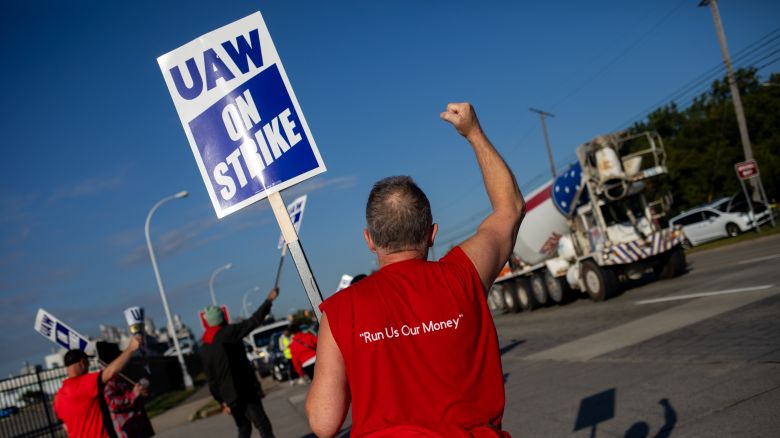 There is some good news for an industry facing unprecedented labor disruptions after a tentative agreement was reached between the Canadian autoworkers' union and Ford. More than 5,000 union members will continue to work for Ford under the tentative deal, which will keep them employed.
The details of the deal between Ford and Unifor, the Canadian union, were not immediately available. The strike is likely to be very good news for Ford, which is already facing a strike by more than 3,000 members of the United Auto Workers union and faces a possible US strike expansion on Friday.
Ford's last-minute offer resulted in the union contract being extended for another day and preventing Unifor from going on strike late Monday night.
In a statement released Tuesday evening, Unifor said it used the union's most powerful weapon: the right to strike.
Union officials said their bargaining committee unanimously recommended the deal to the union's rank-and-file membership for ratification. Ford made few comments about the deal Tuesday evening before the vote.
Ford of Canada will not discuss the specifics of the tentative agreement to respect the ratification process.
In the event of a strike, Ford's three Canadian factories and numerous parts distribution centers would have been shut. Production of the Ford Edge and Lincoln Nautilus SUVs would have been halted, as well as the two models of the V-8 engine produced in Windsor, Ontario, across the river from Detroit, which are both assembled outside of Toronto.
The lack of those engines would have halted production of two of the company's top models at US factories, the F Series pickups and the Mustang sports cars. There are some ways in which a strike in Canada would have been more consequential for Ford sales than the strike at Wayne, Michigan, where more than 3,000 UAW members have been on strike since Friday.
There is no immediate indication what impact this deal will have on negotiations between the UAW and Ford, as well as General Motors and Stellantis, the automaker that builds Jeep, Ram, Dodge, and Chrysler vehicles for the North American market.