Ben Stokes made England World Cup decision shortly after Ashes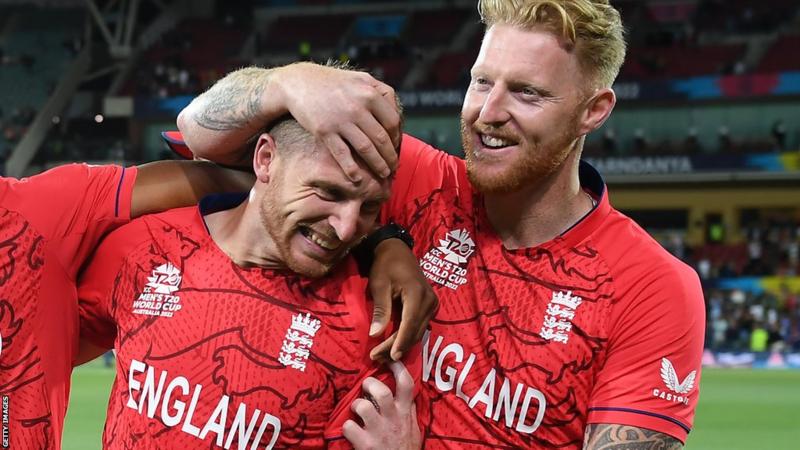 England white-ball captain Jos Buttler says Ben Stokes reversed his one-day international retirement "a week or 10 days after the Ashes".
After retiring from ODIs last summer, he has made himself available for England's World Cup defence in India.
"I just left it up to him if he wanted to come back," said Buttler.
It is wonderful to have a player of his quality back in the team. We are delighted to welcome him back."
In addition to Stokes, England's 15-man squad for the World Cup has also been named for the four-match one-day series against New Zealand in September.
Buttler explained that the call had been made by Ben. Those of you who know Ben pretty well know that he won't be persuaded by anyone.
Our conversation about it took place quite some time ago."
Stokes announced in July that he remained retired from ODIs and would not be attending the World Cup after England drew 2-2 with Australia in the Ashes series.
However, Buttler revealed that Stokes had been contemplating a return for "some time" before making his decision.
Buttler said Ben is very much his own person and makes his own decisions.
It's not really how things work with Ben if I badger him and say 'come back, come back' all the time. I've played with him for a long time, and we're good friends.
He makes up his own mind and decides. We discussed it a little, but I left it in his hands. I'm sure the lure of playing in a World Cup is quite big for someone as competitive and driven as he is to represent England."
Stokes, who has played 105 ODIs, was player of the match as England defeated New Zealand at Lord's to win the 50-over World Cup for the first time.
As England became the first men's team to hold both limited-overs world titles simultaneously last year, he played a key role in the T20 World Cup final defeat of Pakistan.
Stokes planned to deal with a long-standing knee issue during his six-month break from Test cricket before opting to play at the World Cup.