Anti-war protesters interrupt Antony Blinken at US Senate hearing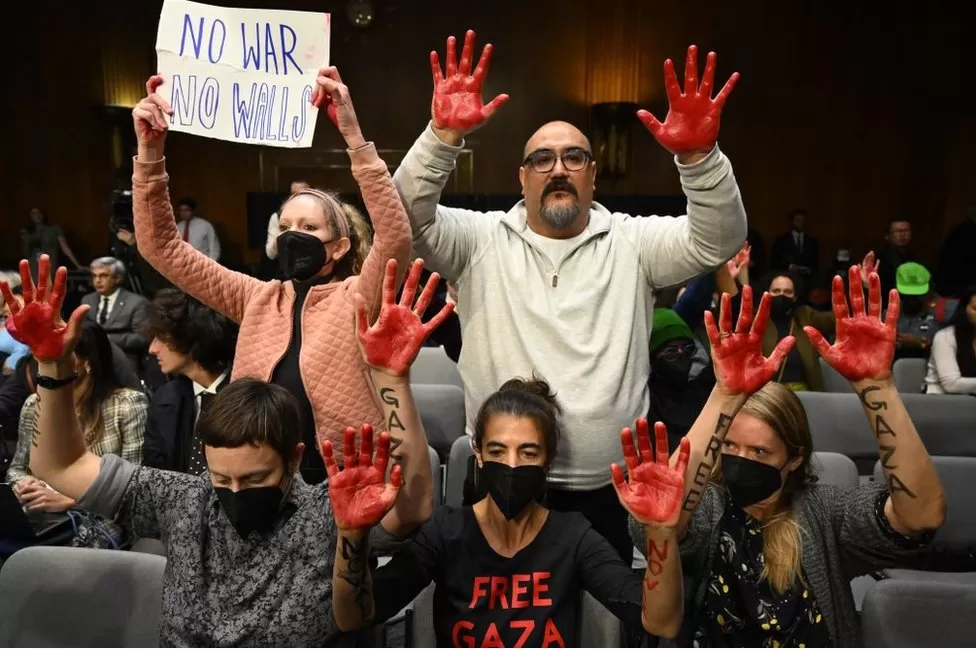 The crowd chanted "Ceasefire now!" repeatedly.
Secretary Blinken and US Defense Secretary Lloyd Austin testified about the White House's request for $106 billion (£87.4 billion).
In addition, $14.3 billion will be used to support Israel's military operations against Hamas.
As protesters stood up one by one, they shouted over Mr Blinken again as he began his testimony. Several times, lawmakers were forced to suspend the hearing because the Secretary of State paused.
Demonstrators were quickly escorted from the room by Capitol Police. In the Dirksen Senate Office Building, 12 people were arrested for illegally protesting.
CODEPINK, which has also urged the US to stop sending weapons to Ukraine, was among those who interrupted the proceedings.
Protesters wore pink and held signs that read "No to the siege of Gaza", calling on the US to stop funding Israel.
CODEPINK confirmed that some of its members had been arrested. According to the group, some had painted their hands red to symbolize blood. Blinken acknowledged the protesters and "the passions expressed in this room" at the end of his speech.
All of us are committed to protecting civilian life; all of us know the suffering taking place right now, and we want to see it end," he said.
The US must, however, stand with its allies, he added.
The Blinkens and Austins are lobbying lawmakers to support President Joe Biden's national security package, which includes: